Group members getting to know each other using reflective 'mirrors'
For an overview of the approach we took in this project check out the Approach applied in KiP page. This explains that the process we were working through was to learn, plan and do together.
This was the first meeting where the whole group got together. It was an opportunity to learn about each other and share our understanding of dementia. You can view our programme, and our goals for the day were to:
Connect up and build relationships Share expectations about what we want to achieve Agree how we want to work together Agree homework and next steps Connecting up
We wanted people who didn't know each other to start to connect
Continue Reading
During this session we were all still getting to know one another and leaning about different views and experiences of dementia. Our goals for the day included:
Understand person-centred care Understand the assets we have- and how we can optimise them and help each other Agree our homework and what's next?
This is the programme we followed.
Re-cap on last session
We used the start of this meeting to re-state project aims, what we understood by 'co-production' (or working in equal partnership). We also shared:  the Working Together Agreement the group had agreed at the first session;  the 'parking lot' idea and red cards to highlight jargon/uncertainty or halt discussions  to ask a question; and the  group's hopes and ambitions.
We went over the project timetable so people
Continue Reading
Mapping local assets
Following on from understanding person-centred care and what that looks like in people's lives, as well as our interpretations of dementia, we stayed in the understanding phase for this third workshop and thought about what kind of support there is for people with dementia in this local area.
This was our programme for the day and we decided our goals would be to:
Revisit person-centred care and support Map our local assets and brainstorm improvement ideas we might take forward Agree homework and next steps Connecting up – the power of positive thinking
As our ice-breaker for this meeting we asked people to speak in small groups about what keeps them strong, generally and at times of adversity, and we wrote this on the
Continue Reading
This was the workshops when the group moved from understanding, to planning what they were going to do in repsonse to the needs they had identified. This was our programme for the day and we decided our goals would be to:
Complete community mapping (from last meeting) Introduce approaches to improvement Develop improvement ideas to trial Agree homework and next steps Connecting up
For homework, people had been asked to identify 12 songs or pieces of music that were particularly meaningful to them, and say why. We shared the chosen songs  as part of our ice-breaker using spotify and Youtube. Everyone loved this! As you'd expect, it also identified diverse tastes in music.  Some people shared memories that related to the songs they had chosen.
This is an example of one of the musical templates filled in by a group
Continue Reading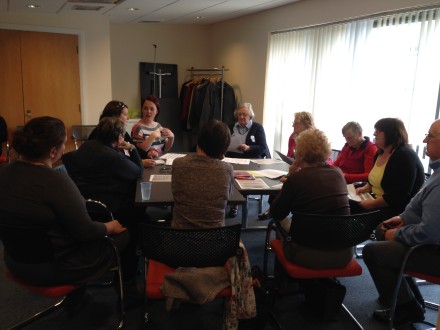 Three ideas were identifed at the last workshop, so we used this workshop to plan how to take these ideas and make them a reality. This was our programme for the day and we decided our goals would be:
Working groups provide progress reports on improvement ideas Action planning for testing of improvement ideas How to measure impact of improvements Agree homework and next steps Connecting up: how well do we know each other?
We had been working hard to come up with new icebreakers, or ways for the group members to re-connect that are fun, and we wanted to try different approaches. We asked people to take some time to write down three 'strange' or unusual things about themselves – two of which were to be true and one false. Those with dementia in the group were helped by
Continue Reading
This was the sixth and final meeting. As Kerry (Project Manager on this project) had now gone on maternity leave, I (Gayle) facilitated this session with Rikke.
At this workshop we fed back what had happened when people tested their ideas in practice. We shared our interpretations and discussed what people could do next to further develop their ideas. We concluded by reflecting on our work together and celebrating, with some cake. See our programme.
Our goals for the day were:
Working groups to provide progress reports on improvement ideas Action planning for testing out improvement ideas Measuring impact of improvement ideas Agreeing  next steps Connecting up
As everyone knew each other well by this point, and there had been quite bit of activity since the last meeting, we
Continue Reading
There have been three outputs from the KiP: dementia project. Two dementia cafés and a café for carers of people who have dementia. The project group included five people with dementia, five carers, and eight professionals with a health or social care background.
Dementia cafés
In North West Glasgow the group has set up a dementia café in Drumchapel. This café has run four times since October 2014 and the number of people attending has increased each time. The café has dates confirmed for the next six months. The idea was developed and is being supported by a sub-group including practitioners, carers for people who have dementia and people with dementia. One carer from the North West Glasgow group explained that as a consequence of being involved
Continue Reading