So, we've been a bit quiet on here over the past few weeks, but that doesn't mean that we've not been busy.
We've been working on mapping out all of the different assets identified in the workshops and collating them together in one place.
We're using the data collected to turn this: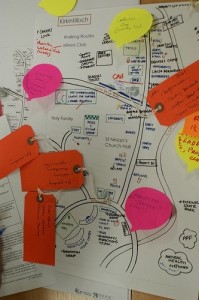 into this
Not only that, we are thinking about how these different assets should be grouped together so that they are easier for people to find, as well as considering different ways that we might want to present them.
More examples to come soon.
We've been really lucky in that Peter from ALISS has been present at all of the workshops. He's working on a different project that helps people access local information about self management. He is doing this by creating an 'engine' which helpfully gathers and organizes information in a coherent way and then points people back to the original source of information. This usefully reduces the amount of time and energy that we need to use to populate maps like these. Have a look at their blog post about putting kirkintilloch on the map for more information.