Many times in trying to solve a problem, we start with a 'needs assessment'. This will generally identify the problem that exists and will set about a way to finding a route for which to meet the identified needs. Using this approach means that there is a tendency to focus on the shortcomings of individuals, since it identifies the problems before the strengths.
A needs focus can sometimes make us feel overwhelmed, resigned, hopeless. Focusing on the positive – on people's strengths can allow us to feel energised and hopeful, even.
Over the course of the project we've been speaking to people who have experienced mental health problems on a 1-1* basis – asking them what exisits in their lives that helps their well-being. We did this because we wanted to help them to map the assets that they had within themselves, and within their networks that might help them to keep well.
We did this using many of the same techniques described in previous posts for community asset mapping – but with a definite focus on the individual, their likes and dislikes, their friends and family and their situation overall. This links very much into the Wellness and Recovery Action Plan (WRAP) idea of creating a 'wellness toolkit'.
I was quite weary of undertaking these exercises at first, because I was worried that people might not be able to see the positive things that they had in their life, and that going through the process might be upsetting. I was wrong.
Having conducted 10 of these discussions with a range of different people, the view is that people found it overwhelmingly positive. There was nothing new to the types of conversations that the practitioner and I were having with them, but mapping things out in a visual way that could be recorded and considered had some really encouraging effects.
Practitioners were able to tackle problems that they'd been discussing for quite some time in a new way and were able to identify factors/issues that they could work on with the individuals quite readily. Service users noted that the process was useful in really thinking about what is important and recording it so that it could be reflected upon at a later date when they were feeling less well (or indeed more well). They were also clear that the visual aspect of it was really good – to be able to literally see what they have (and how much they have) was really powerful.
Here are some examples of the maps we created (highlighting the different methods that we used):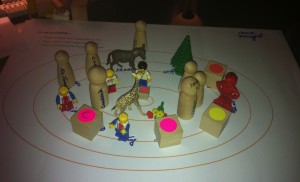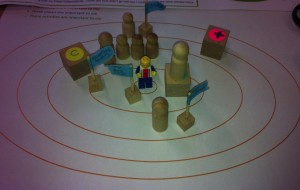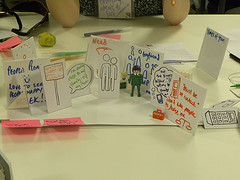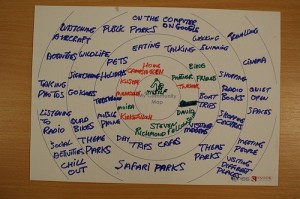 Reflections
This type of planning won't be suitable for everyone, all of the time. For the use of the tool/process to be effective, it will need to be done when the person is feeling well.
What worked best was when there was a good relationship with the practitioner and the service user – it meant that people really thought through the process, rather than coming up with superficial answers.
It also worked well when we tried out these approaches in a group – people were able to spark ideas off of one another and to think about different areas of their lives by being prompted by their peers. Some people were quite overwhelmed by the experience, though, and it is important to ensure that people are comfortable and made aware of what the activity is and how it can help them.
All thoughts welcome.
*1-1 basis isn't strictly true, because many of the discussions we had for the project were helpfully facilitated by trained practitioners. Many thanks to the staff who helped facilitate these discussions!