On the 24th of May, In the glorious sunshine, we launched the Social Assets in Action project – phase two of the asset-mapping project in East Dunbartonshire.
The aim of the event was to introduce all key stakeholders to the project, to engage and excite them about being involved and to convey the relevance of the project work for them. In total, there were 45 participants representing a range of local agencies and services from across the local authority.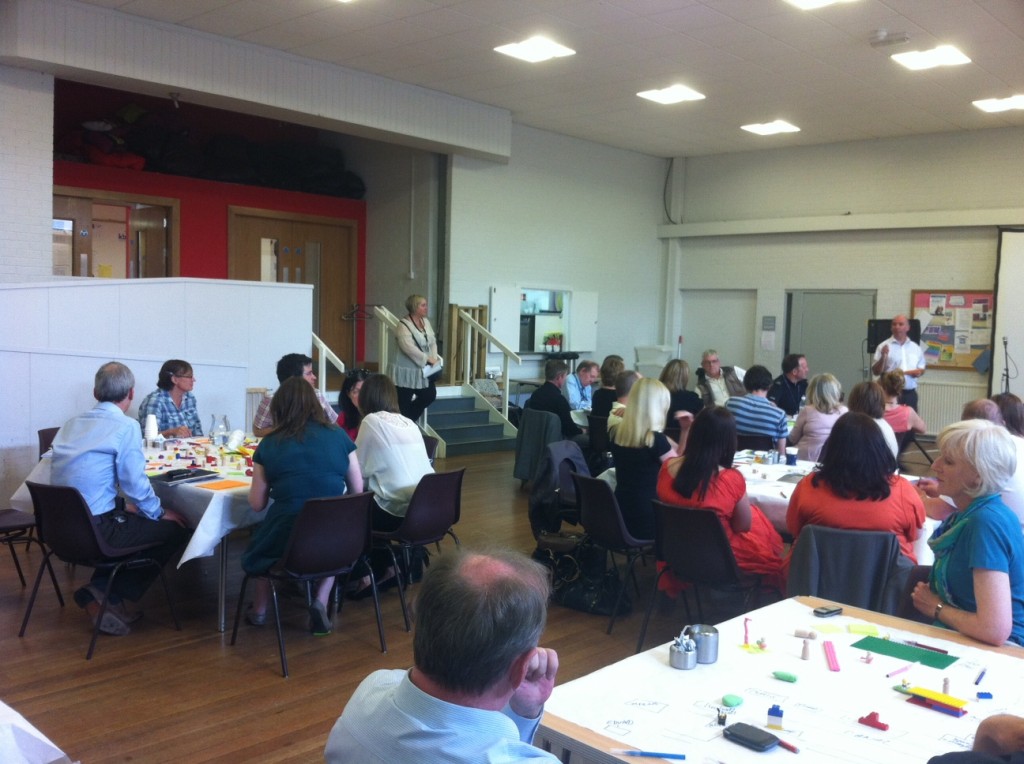 Mark Richards, East Dunbartonshire CHP, and Andy Martin, East Dunbartonshire Council, introduced the day and set the scene, explaining how the work built on the positive response to the assets work showcased at the, 'Stop…See Me…Listen =  Better Outcomes' event, held in October 2011.
Andy Martin talked about the recent IRISS Insight (focusing on strengths based approaches for working with individuals) that was published and highlighted to the group that, 'asset based approaches are not about 'spinning struggles into strengths' and urged the audience to see the project as an opportunity to re-connect with their values and to foster a well-being focus within their practice.
I then gave a brief overview of the theory and evidence for the use of asset-based approaches and touched briefly on the project work from 2011 (which has been covered extensively on this blog).  We also showed videos from previous participants as well as presenting some comments from people who use services who had given their views about the project at an earlier event. You can download my Presentation here.
Fran McBride then gave an overview of the next phase of the project. She explained that there were three streams of work:
-development of a digital tool for practitioners to use alongside people who use services. This tool will be developed in partnership with a range of practitioners in order to make sure that it can be easily integrated into usual work
-extension of the community map to cover all of East Dunbartonshire. In order to facilitate this, there will be numerous events* held in the different towns and communities that will be opened up to a broader range of people
-project evaluation. We want to uncover the impact of this work on people as well as documenting the process so people in other areas can learn and build on the project . We have commissioned Jenni Inglis from VIE to carry out an independent evaluation of the project.
Most of all, Fran set the tone for the rest of the day by highlighting that this is a collaborative project. We want everyone to get involved – to spread the word about the project to their teams, colleagues and people who use their services. It is crucial that as a project team we learn from the wealth of experience that exists locally – we have some ideas but also want to encourage others' input as much as possible.
It was then time to get hand's on!
Each of the tables were set up to provide a demonstration of the different processes that we used in last years project. We wanted to give delegates a sense of what it would be like to be a participant, but also to think about how they might use the different processes in their everyday work.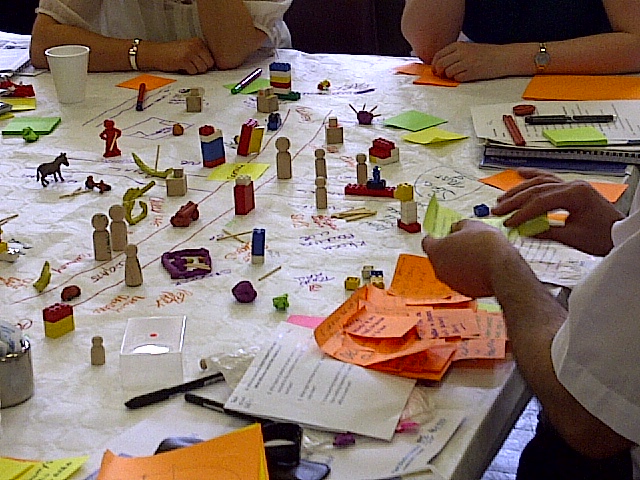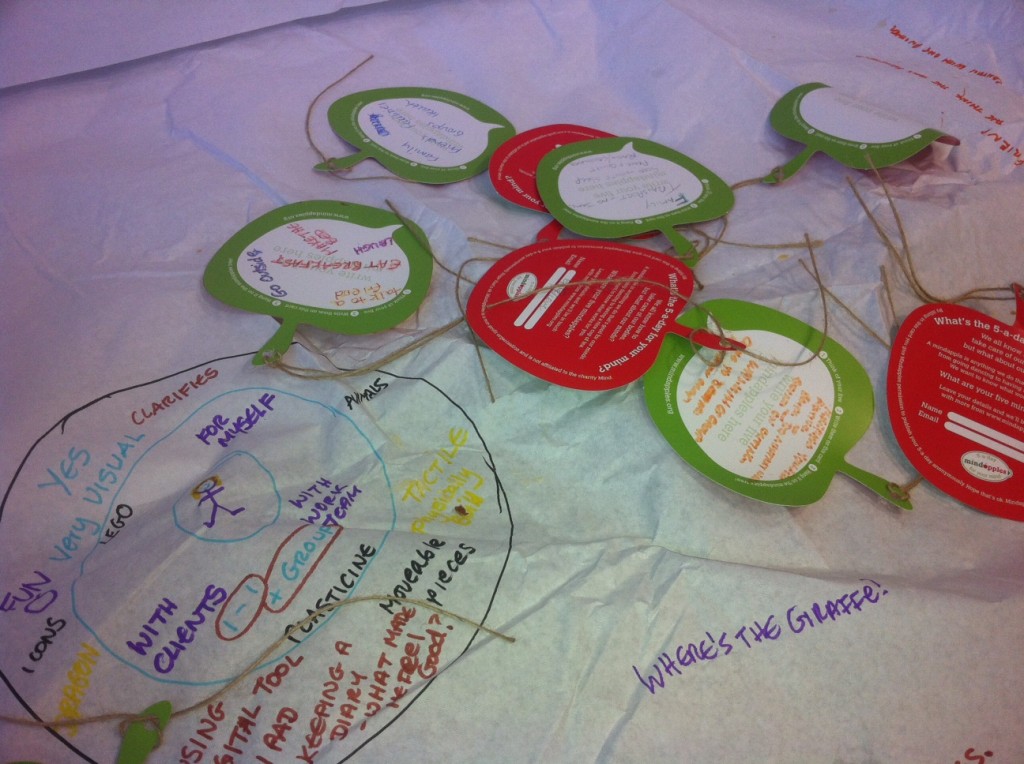 We asked delegates a number of questions:
How would you see yourself using these tools?
What might make it easier or harder to use these tools ?
Have you used anything like this before? If yes what's different about these tools?
What do you think might happen if you use these tools? What difference would that make to you?
Who (types of people or groups) would need to be involved for the community asset mapping project to work best?
What might help these groups get involved, what might stop them?
Is there anything happening locally we can link to? Is there anything happening that make this project more difficult to work well?
Common themes that emerged around these questions have been collated below:
Community asset mapping process

– really good way to engage people into the fabric of society – could reduce isolation. Needs to be promoted well in order to reach a wider audience (local businesses, churches, local community members). The project team should consider linking into existing community events such as the gala days etc.
– using the community map as a signpost really helps the wider community have a great sense of choice and control over the activities and resources they use to look after their well-being. It promotes the shift in thinking about resources beyond statutory services.
– many people thought that asset mapping would be useful, but thought a step further about the support people might need in order to use the different assets. Some thought that using the tools might increase client confidence to access new community resources, others thought that this needed to be considered further.
– using these tools would give practitioners a greater knowledge and understanding of services and resources that might be useful to people. It might broaden out the opportunity for discussion and exploration with an individual
Some ideas:
– people without access to the internet/computers will not be able to access the map. An idea might be to display some of the picture maps created at the workshops through out the area in health centres, churches, community centres etc.
– would be interesting to categorise the assets on the maps in terms of how people might be feeling. E.g. 'I am feeling lonely' or 'I am feeling confused' and signposting people to assets from there.
Personal asset mapping process

– personal map is a good starting point for support and is a tool that could lead to a care plan. Some delegates thought that the tool wasn't new and in fact was closely linked to person centred planning. Others thought that the focus on well-being enables the conversation to be more generic and maintains a focus on the whole person.
– the fact that the physical pieces can be moved means that the process is fluid and flexible – empowering people to become part of their own recovery and utilising more natural supports. A digital version of this may make it easier to update and track changes in progress.
– this process makes the default position person-led, not service-led. The tools are a creative way of thinking about what is supportive, rather than the traditional way of fitting people into services. Practitioners will need to adapt practice to work in this way.
– this tool is useful for helping people to see the small steps they are making – which might not be so evidence unless they are made visual. It is also more concrete – making it difficult for people to deny progress/assets
Some ideas:
– would be useful to re-visit maps every few months to monitor progress and to see how far people have come on (or not)
– maps should be completed when people are 'well' and used in conjunction with a 'keeping well plan/recovery'. Some people thought that the use of the tool would support the 'where are we? how do we move on?' conversation with clients.
The project team will be collating all responses in order to shape the next phase of the project.
Some comments from delegates evaluation forms included:
I've learned:
'a whole host about the assets approach and how it can change people's lives'
'that the asset mapping can be an important tool in obtaining a clearer assessment of an individuals strengths and help to shift emphasis from a resource led to a strengths led approach when accessing services'
I think the tools are:
'fun and useful. Interesting how they can be used to engage people in different ways and at a different pace'
'useful, dynamic and visual'
We were pleased that delegates overwhelmingly noted that they would use the tools in future and half of all delegates left their names to continue to be involved in the project and to be contacted by the project evaluator. We will be in touch!
For more information about this project, please contact the project team:
Fran McBride – frances.mcbride@ggc.scot.nhs.uk
David Law – david.law@ggc.scot.nhs.uk
Lynsay Haglington – lynsay.Haglington@eastdunbarton.gov.uk
Lisa Pattoni – lisa.pattoni@iriss.org.uk
You can expect regular updates on this project blog from different members of the project team, but we'd really like to hear your views – so feel free to add comments, thoughts and reflections to any of the blog posts.
*Community events
You'll see us around many events that are already taking place locally. But we've arranged these dates specifically to get people to think about their well-being and local assets that might help promote this.
Bearsden and Milngavie:
Saturday 23rd June 2012, Allander Sports Centre, Bearsden     12pm – 5pm
Friday 29th June 2012, Enterprise Centre, Milngavie 10am – 1pm
Twechar:
Friday 20th July 2012, Healthy Living Centre, Twechar 10am – 1pm
Saturday 28th July 2012, Healthy Living Centre, Twechar 12pm – 5pm
Torrance:
Monday 23rd July 2012, Caldwell Halls, Torrance 10am-1pm
Saturday 18th August 2012, Caldwell Halls, Torrance 12pm – 5pm
Bishopbriggs:
Monday 17th September 2012, Bishopbriggs Community Church 10am – 1pm
Saturday 22nd September 2012, Bishopbriggs Leisure Centre 12am – 5pm
Lennoxtown and Milton of Campsie:
Tuesday 9th October 2012, Campsie Memorial Hall, Lennoxtown 10am – 1pm
Saturday 20th October 2012, Campsie Memorial Hall, Lennoxtown 12pm – 5pm
Kirkintilloch:
To be confirmed.
Thanks and acknowledgements
Our friends at East Dunbartonshire Association for Mental Health (EDAMH) were also on hand to facilitate a table and share their experience of using an asset based approach in practice. We're really happy that Julie Leonard from EDAMH will be co-facilitating sessions with practitioners alongside Fran McBride in the project.
See Mindapples for more information about their campaign which aims to make looking after your own mental well-being as brushing our teeth, by asking everyone, "What's the 5-a-day for your mind?".
We love using the different wooden blocks, sticks and cubes for the different mapping processes. If you do too, see Tessy Britton's shop on Etsy.
Many thanks also to East Dunbartonshire Voluntary Action who helped with the administration of the event, and the Kirkintilloch Baptist Church who provided a lovely, accessible venue for the event.