The first workshop to support practitioners get to grips with asset mapping has taken place in Kirkintilloch. We provided two different dates for the first session, hoping to enable as many practitioners as possible to make it. We were really pleased to welcome a range of pracititoners from both the NHS and voluntary sector organisations.
The purpose of the workshops was to introduce the project to people, provide them with the opportunity to try out asset mapping in one-to-one settings, and discuss barriers and opportunities to this method of working. The objective was that by the end of the session, staff would have enough knowledge and experience to reflect on asset mapping and who they might use this tool with before the next workshop.
First workshop
The workshops ran for 3.5 hours and everyone was asked to fill in questionnaires to get a sence of how they currently work. The same questions were asked of each person again at the end of the project to see if and how their practice may have changed.
Background to asset mapping
After introductions and a bit of background about the Asset Mapping project that ran in 2011, Julie Leonard from EDAMH spoke freely about her experince using asset mapping as a tool in the 2011 project. She described how she had approached service users about engaging with the tool, what their thoughts had been, barriers to using the tool and the way it enabled a deeper, quality conversation with service users.
We also used quotes to share what service users had said about asset mapping, for example:
"This is a really good visual way of tapping into what's around you"
"I'm surprised at how much I have very close to me"
"I have a lot in my life, I just need to decide how to use it better"
"It's made me see the progress I've made"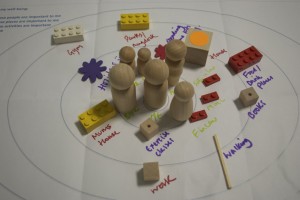 Discussions about barriers and opportunities
While Julie was talking, everyone round the table asked questions about the process and shared their thoughts and ideas about ways it could be used with people they were working with. We were also lucky enough to have a Peer Support Worker at the table who was able to reflect on how he may have used this tool at different periods of his life.
Thoughts focused around the length of time it may take to use asset mapping, if it would be worked on over a few sessions, and if practitioners were going to be able to use it with the three people during the project process or less.
Other discussions focused around using asset mapping with someone you know well and have worked with for a while, the stage in the recovery process that the tool could be introduced, and if it could be used to consolidate work.
Some of the opportunities that were identified were about a service user using asset mapping with two practitioners from different services, helping not only the service user but the practitioners recognise how each service could support a person. Ideas about using asset mapping in a peer or group sessions were also mentioned – ideas similar to the community asset mapping element of this project.
People saw a lot of similarities with cognitive behavioural therapy, spirit work and person-centred counselling, recognising that asset mapping connects with current practice and could be used, or modified, with these approaches in mind.
Other benefits people talked about were the visual aspect of the tool and how this can differ from having to write things down (which was considered more intimidating when someone's mental health is poor).
There were also thoughts about recognising that no matter how well you think you know someone you work with, there is always new evidence that could support their mental health. Asset mapping was thought to be possible tool to access new information. Continuing on from this, others considered that it might be beneficial for use with people who tend to live in a circle of crisis and then stability – supporting them to reflect on their assets at different time and depending on how their needs change.

Opportunity to try out and discuss
After the break, everyone got their own asset mapping box with bits and pieces they could use. We broke into pairs and each couple got 15 minutes each to try out completing an asset map for themselves.
One this was complete, we all talked about the experience, what could have improved the experience and what was missing. Everyone said that the boxes needed more stuff in them – most adapted what they were given to create new 'stuff' i.e. a dog, or car, and it looks like most practitioners will add in their own elements and invite those they are working with to include what they want to as figures too. People hesitated drawing on the maps (although not writing), and people said that the bits and pieces in the pack were good as it meant people did not feel like they needed to draw.
There was an issue around the colour coding on the map (green, blue, red for different kinds of assets). Some people said they needed coloured pens to connect what they were doing up to the key, others preferred not to use the key and did their own thing, and others said they would like to have blank boxes into which they could create their own key once they figured out the themes that were arising from their map. To accommodate these preferences we have created a new version of the map with blank boxes and no key to be used by people as they wish. It was deemed the practitioners responsibility to support interpretation of the possible colour coding if this was necessary in a conversation.
People also noted they would like some guidance on using the asset mapping tool, prompts to help explain the tool, that people can dabble with the tool until they understand how using it is working for them, and that service users have ownership of the tool and can make it their own.
Some people thought that it might be good to give service users a taste of using it and then go back to it. Others thought that it was a shame that the box of bits and pieces would be taken away once the asset mapping had been done and the discussed needing it to be able to take pictures of the map once it is created and that these need to be shared as quickly as possible with each service user. Other possibilities shared by Julie were to write where the assets were on the map so that people have a written explanation of what they had placed where.
There was also a discussion about the absence of notes using this method. Some practitioners who were already working using asset mapping said that they had been writing notes on the back of the map to record the justification of service users for placing things on certain areas of the map. Some said they could write comments at the side of the map, others suggested a separate map that enables people to write justifications on the same place on a different piece of paper. As a result, we have adapted the map to accommodate these preferences too.
There was quite a bit of excitement about how asset mapping could be used in a digital sense – recording audio, taking photographs, service users typing up their own justifications and that it could be constantly updated. As it happens, we have one of our digital gurus on hand in the project (Paul Hart) who was observing how practitioners used the tools so that he can start thinking about transferring asset mapping to a digital medium. Whilst there was some excitement about this, it was noted that the physical asset map may be preferred by others.
Ultimately, people felt that it really depended upon who they were using the tool with and that it was like any kind of conversation – once you sit down and start thinking and it how it changes all the time. There was an expectation that the asset map would reflect this is done repeatedly over time and there was a note of caution around spinning assets into conversations and the possibility that people may become emotional when using the tool.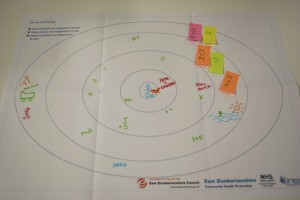 Feedback about the session
The session came to a close then, with people having tried the tool out and shared their thoughts. We asked that each person start to think of three service users they would like to use the tool with and come back next time with this in mind.
The feedback about the session itself was positive, practitioners spoke about it being good to get a sense of asset mapping and what it could feel like from a service users point of view. Others thought it was 'fun and interactive', 'not what they had expected from a training session'.