The group met for the last Plan P session on 18 January, however this is just the beginning for the 'St Monans Abercrombie Community Group'!
We discussed the group's activities since our last meeting in October, we then reflected on the experience of being involved with this project over the past year. Charlie from the Scottish Fishing Museum called in to share his work and we spent some time thinking about plans for the future. We recognised that this year is just a start for the group to move on to greater things!
Café Connect
Café Connect is now being held once each month on a Tuesday afternoon. The group will book the time in the lounge diary, to make sure it is always available. The new time is proving popular as the  hotel (next door)  is shut on a Tuesday, so people looking for some company or a coffee in the afternoon can visit Café Connect instead. Cafés have been well attended with new visitors from the village coming along.
Roddy suggested circulating flyers for the café and Vivien suggested putting a notice in the 'Loaves and fishes'. The group hopes to encourage people to come along for advice about using technology e.g. ipads or laptops, as well having people (Eileen, Roddy or Peter) around who can help those who would like to access the internet.
Crafts/baking
Sandra and Margaret continue to create new craft items for sale, they are currently exploring the art of 'felting'. Successful stalls were set up at Christmas fairs in St Monans and Pittenweem. Peter, Roddy and Sandra have produced a business card to help publicise their activities and crafts.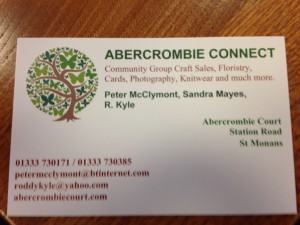 Inkwell celebration
In November we held a celebration lunch for all those involved in Inkwell. Rita and Helen from Bield, organised for the four ladies from Elie to join us at the Mayview Puffin Lounge and we enjoyed a glass of bubbly (or an orange juice!) and a sandwich lunch. The portraits were on display and Alan read out his story. Everyone who had been involved was given their own framed portrait to keep. We all thanked Andy for his hard working in making the portraits, everyone who helped to set up the project and all those who agreed to tell their stories and have their portrait created.
Website
Roddy has purchased the website Abercrombiecourt.com. Eileen showed us the front page she has designed and explained how different links and pages could be added. St Monans.org is an existing website with pages for local news and community council minutes, although that website is still being developed we wanted to be sure that the Abercrombie website didn't duplicate content, rather we could add a link to the St Monans website.
Community Involvement
The group planned to attend the Community Council on the evening of the meeting. In particular there was interest in the vacant property at Station Road being a possible venue for activities, including: the café; other community group meetings; running classes; selling photographs, art and craft work, cards etc.
The Community Council were also interested in the property as a new venue for the heritage centre, however this would require negotiation with  Fife Council. Through support from Fife Voluntary Action (FVA) Community Development team, the group learned about the Community Empowerment Act and the associated rights of community members to be supported to buy and maintain local land or property for the benefit of the community. Roddy was able to pass on this information to the Community Council, who then contacted FVA for further support. This has helped the group to be recognised as an asset to the community and a powerful ally.
The FVA Community Development team is also going to support the group to become a constituted group – the 'St Monans Abercrombie Community Group'.
Scottish Fishing Museum
Charlie Trzeciak from the Scottish Fishing Museum at Anstruther called in to the meeting in the afternoon. Charlie showed some of the photographs from the collection, and some unusual objects, asking the group to work out the purpose of each item. We enjoyed looking at the resources and some of the group were able to comment on the venues photographed and remembered relatives who and worked in local industries. Charlie told the group about activities that will be happening at the museum and described opportunities to become involved as a volunteer with the museums work.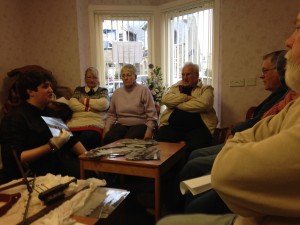 Reflections
We used a set of cards with questions to reflect on experiences of being involved in this project. Each person picked a card in turn and answered the question. Sometimes others added their thoughts. Below are the questions and the answers:
What have you learned?
"That I've still got a role to play even though I'm retired – All these skills that I spent years honing, I thought they were gone, but I've found that I can still be functional'
What hindered progress?
"Some people didn't want to come out, it was difficult to make contact with local older people"
"Waiting such a long time to get wifi installed"
"Some resistance to change, seen as 'bringing outsiders in'
"Lounge is too small"
What advice would you give others?
"Everyone has something to bring to the table – even if they don't know what"
"Respect everyone's diverse knowledge – agree on the shared aims"
"Stick with it"
"Remember that learning goes on all through your life"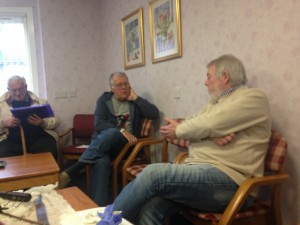 What did you not enjoy?
"Sitting listening"
"When it ended!"
At the first meeting people were confused by the many pieces of flip chart paper on the wall. Afterwards they said 'what was that all about?'
"Perhaps needed more time to build trust at the start"
"At the second meeting things got better and it was clearer why we were there"
What has changed?
"We've all changed"
"We're more confident"
"We're not so frightened to step on toes"
"We have the confidence to start engaging with others"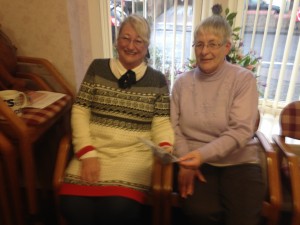 What helped?
"Listening to other people's experiences"
"Learning from our mistakes"
"Humour- helps people to feel relaxed and open up"
"Money – helped, but people were keen to be involved anyway"
The money was not taken by individuals but has been saved in a separate account, this might be used as a deposit to secure new premises or to seek additional funding – good to have a starting pot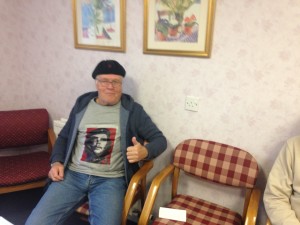 What surprised you?
"All the different people coming in"
"I thought I might be bored but I've enjoyed it"
What have we achieved?
"We know what we're talking about now"
"The group has formed and gelled"
"We can work well together – although people come from different backgrounds"
"We have grown our ideas"
"We are recognised in the wider community"
"We have changed perceptions – now seen as a resource"
What did you enjoy?
"Seeing the group change and emerge"
"Building confidence"
"Inkwell – reminding everyone about how older people have interesting stories to tell"
Next steps
At the end of the meeting we discussed the  Action Plan 2016 for the group including: 'what we bring'; 'who we work with'; 'what we do'; and 'what we want to happen'. The sections completed in Jan 2016 were included and  the 'what we want to happen' section read:
Regular social activities
Sustainable (lasting) change
Create space(s) where people can get together
We will work through a finding out stage ands then plan the next stage
So we were delighted to agree that we had been successful in meeting these outcomes!
The new plan has space for the group to add new ideas and activities to help plan for the future.
Congratulations to you all for your hard work over the year. It has been inspiring to see the group emerging and the energy and new ideas that each of you bring. It's especially exciting to end this project at the very start of new ventures for the St Monans Abercrombie Community Group.
I wish you all good things for the future – keep up the good work!
Very best wishes
Vivien