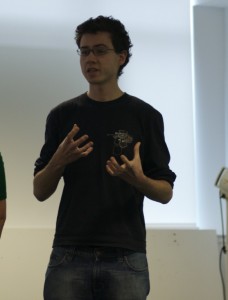 This group explained how they have interpreted this issue – to give a person the support they need to live an independent life; and what it means – giving people the skills and support to look after themselves with the right amount of support. They identified that the main professionals involved in reablement are: occupational therapists, reablement coordinators, reablement home carers, a team leader, and an area operations manager.
They worked with a health sector practitioner to identify routes towards reablement and identified two which they called a fast track and community (or non fast track) and mapped these routes (see slides). What was of note about this group was the use of the word 'rehabilitation' as opposed to 'reablement' in the health sector.
Working with older people and carers, the groups set up a series of tasks to find out what kind of activities, transportation and chores older people are able or want to do in their community. Similar to other groups, the reablement group also created a series of profiles of older people and built scenarios around them to reflect the personal information and experiences they learned about (see slides). Interestingly, they recognised that where a person lives in the south of Glasgow, wealth and ethnic origin impacted on access and expectations when it came to reablement. They followed this by creating a SWAT analysis for other people around reablement (see slides).
Key findings:
– Housing can be an obstacle
– Lack of awareness for practitioners in this area
– Lack of motivation from both service providers and users
– A time gap between services can create problems for reablement
Opportunities this group identified:
– Prioritise housing
– Promote effective methods for carers
– Look at success stories to motivate clients and providers
Feedback from the audience: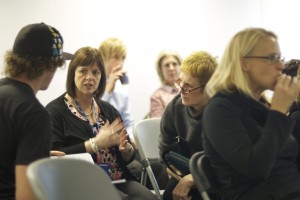 Housing is key, people regard where they live as their home but cannot always stay there.
Edinburgh City Council have done a financial appraisal of their reablement service that could be used.
As well as people needing services as they come out of hospital, home support also needs to be addressed.
Needs on paper can be crammed into a 15 minute time slot on the basis that something is better than nothing – there is not a great deal of variety in what people could be provided with.
Travel time can squeeze the time staff they get to spend with people. Ideally, services should be localised rather than having to travel all over Glasgow.
Some services are moving away from a task based service to something that is more flexible.
Is reablement the otherside of anticipatory care?
Firstly, staff need to reable/enable staff. The managerial hierarchies have the vision but the staff have to deal with what is going on on the ground.
Is reablement a social issue or a resource issue?
What is the perception of independence of the people who are receiving services and how do you link that to the type of service and the resources of that service.
Do you think it is an evolutionary or revolutionary thing you need to do here?
Sometimes it is thought that being on your own can be incredibly scary and sometimes it can be easier to work in a group, to be part of a network. The perception of losing a safety net can be the biggest fear.
Biggest fear can be being alone – ' I can make a cup of tea when someone else is there but on my own…'
Sometimes it can be about saying it's ok to fail, you'll do it the next time.
Sometimes the carers of people you are assessing can form a barrier.