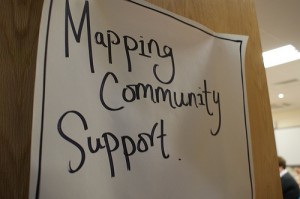 Monday's asset mapping session brought together people using services and practitioners, to collect and collate local knowledge in and around Kirkintilloch, on the subject of well-being and positive mental health. We were really keen to ensure that the workshop brought together a range of people on an equal footing so that they could share and learn from one another.
We had a great turnout with 7 people who use services and 8 practitioners from services such as health improvement, peer support, occupational therapy, social work, the Richmond Fellowship, Ceartas (Advocacy), Connections and Carer's Link coming along.
What we did
The session lasted for 4 hours (with lunch). We split into 2 groups and thought about the little things that we all do everyday that help to keep us well.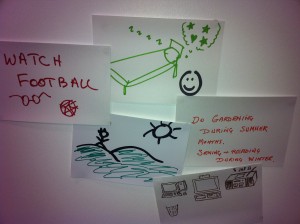 The types of activities that people identified included:
having contact with groups of friends and a support network
cycling in good weather (including keeping yourself organised for this and getting everything packed)
dog walking (for someone to talk to, who doesn't answer back)
walking by the canal and expanding your routes
setting up breakfast dishes the night before – so that the day is easy to step into
going to the gym (helps with energy levels)
running (with people) – good for you, but you might feel the benefit more afterwards
having some music playing to gradually get you into the swing of things in the morning (a soundtrack to your activity levels)
having a local, regular place to go to meet people who are going through similar experiences
gardening and looking at flowers – can be really therapeutic to take some time to yourself (in the summer).
We shared this with each other and thought about any similarities and differences.
We were able to pick out different themes from the range of activities people talked about. These were:
social – having contact with others
physical – keeping busy by doing things
senses – thinking outside of yourself and being aware of how things look, sound, smell etc.
Mapping community assets
We all then looked at a range of different objects, photographs and leaflets that represented current service provision locally.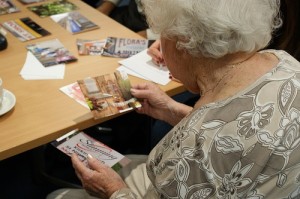 We identified the assets in the community that could be useful to encourage positive mental well-being. Some of these included:
Seagull Trust barges (and the canal) – feels like you're in another world!
Church – good place to meet people and have some space to think
Citizens advice – very professional service
Ceartas – lots of positivity around this service
Charity shops – places where its easy to talk to others, great for volunteering
Food co-op – highly visible, good produce and good place to see volunteering in action
Ghilloni's – much love and admiration for this place
Kirkintilloch Health and Care Centre – good that it is all under one roof, but some things about it could be better.
We also thought about those that were not so positive.
transport – really difficult to get around east Dunbartonshire which makes it hard to get groups together. Dial-a-bus is also difficult to organise
out-of-hours services were not viewed favourably
planning meetings – it can be really difficult to get your voice heard, even though people do make an effort to make you feel welcome.
costs of services
there are not many day activities available – something that gives your day structure would be good
As a group, we shared our experiences of some of these services.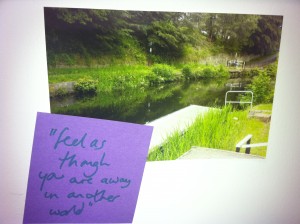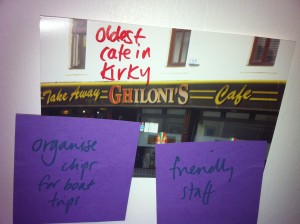 This helped us get a picture of what living in the local community is like for people and gave everyone an opportunity to discuss the assets that could be used more, and those that might need some improvements to be used more often.
We then considered how the personal things that we do every day to keep well could be supported by the assets we had identified in the community. This was quite difficult to do in the time available and due to the fact that people were very keen to talk more about their current experiences. This is something that we will focus more on in the next workshop.
Ideas
The afternoon session focused on developing ideas for the sorts of things that might help support positive mental health and well-being within the local area.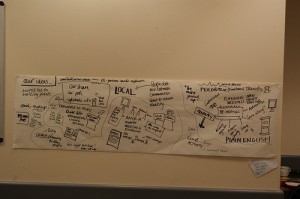 We focused on the following issues:
Meaningful engagement (planning meetings)
it may be necessary to have a pre-meeting to prepare
feedback the whole way through the process is vital
it should be open, honest and be true engagement
advertise meetings well, so that people know what to expect
ensure there are lots of ways for people to gather views i.e. through the post, online, in person, social media etc.
get rid of the jargon
use advocates to assist this process as much as possible.
More activities for older people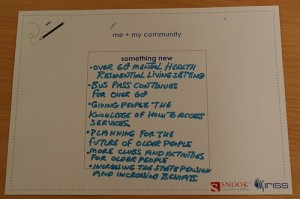 is over 60 the right bracket any more?
need to ensure people know how to access services
bus passes should continue
need to think about what is happening locally for older people (and how this links into national policies)
Central venue for meeting people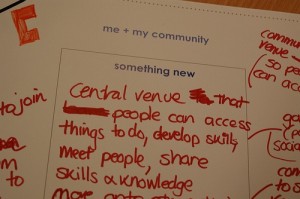 a central venue that people can access
gives people things to do, as well as developing skills and meeting others
a useful way to help people move on to other things
a community venue would be good
could charge a minimum amount to cover costs
Feedback for family carers
to have a meeting once a month to go over any problems which may arise (at the moment there is only one way to make enquiries, and it is often unavailable)
meetings could be advertised in local shops or libraries
a newsletter would be really good.
Support for those returning to work
One of the groups focused on this topic as a key issue throughout the workshop session.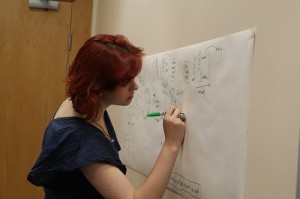 very important to have continuity throughout the process – the same mentor and the same method of communication
softening of the environment so that you can take part in different types of conversations
one-to-one emotional support once a week is important
something to keep you occupied so that you are not worrying before an appointment
literature currently focused on absence, misconduct and discipline rather than health and well-being. It is important to ensure that the tone and language used in the paperwork is softened (as well as reducing the volume of correspondence!)
a back-to-work mentor is particularly useful for follow-up meetings and conversations.
What people thought of the workshop
At the end of the session, we handed out some evaluation forms to ask people what they thought of the workshop, and also to ask what we could do better next time.
Some of the things people found good about the session included: they felt safe and able to share, it was a relaxed atmosphere, they had been really inspired, it was good to get a chance to learn new tools for engagement, it was a good way to meet and share with other people and it was a good way to talk about some of the really good people and services, and to applaud them for the good work that they do.
Some of the things that people did not think were so good about this session included: people would have liked to have more time for introductions (so they knew more about who was in the room), it could be difficult to raise an issue about a service when those providing the service were in the room, there were not enough breaks and that using the word 'improvement' implies that there is something wrong with what is currently being offered.
So, for the next session, we will make sure that there is an opportunity for people to feedback sensitive views in an anonymous way and will make more time for people to talk to one another and find out who everyone is (as well as move around a bit more!). We will also focus more on how the identified assets can be used to plug any gaps in service provision, rather than focusing on the services specifically.
The next session will build on what we learned on Monday and we'll think in greater detail about how we can encourage people to use the assets that we've identified in the community better.
Reflections
Some of my thoughts from the first workshop…
Many wider issues around service provision and engagement came to the fore at the first workshop, with people taking the opportunity to voice what has been concerning them most. What was really good about that, was having the chance to talk these through and to come up with some potential ideas that may resolve the issues. One of the aims of the project is to flatten any knowledge hierarchies so that the views and ideas that are expressed are considered as equally valuable. The ideas that we came up with will provide really useful recommendations for consideration.
Having so much knowledge and experience in the room; be it experiential, service related or process related means that there are boundless opportunities to share and learn from one another. In itself, this is a huge asset, but it also brings with it some challenges around managing different perspectives and expectations about what can be done to promote well-being and positive mental health within the confines of this project.
What is possible in the project, is to work together on how we can better use the positive assets identified and to consider how these can be shared with others who may not be involved in the project directly, so that they can use them too.
All comments welcome!