Regular blog readers will know that over the coming months, there are a number of events happening across East Dunbartonshire designed to engage residents in a conversation about living in their local communities and finding out what assets are the most useful.
The first of these events was focused on mapping Bearsden and Milngavie.
Drop-in session
Our first drop-in session was held in Allander Leisure Centre on Saturday 23rd June. We talked with over 60 people (ages ranged from 3 years old right up to those in their 70s).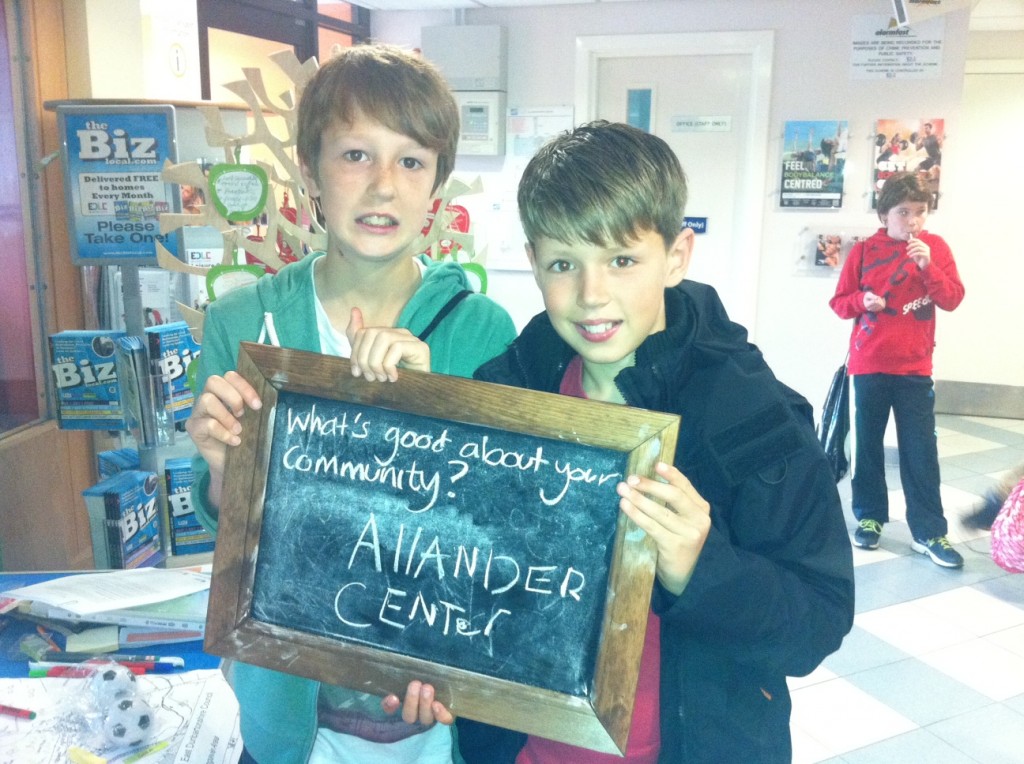 We asked people what was good about living in their local community, and what local assets they'd want to promote on a digital map. We retrieved a varied response, some of the assets are listed below.
Local Library
Walking at Mugdock Country Park (people talked about the range of services and resources that were available at Mugdock as being a really valuable community asset)
Stagecoach Theatre Arts (operating out of Cairns Church of Scotland)
Milngavie train station
Walking routes (West Highland Way starting point)
Kilmardinny Loch
What was clear from talking to people, was that they really appreciated having lots of open green space in Milngavie and Bearsden. There is a host of evidence which reports the significance of access to green space for health and wellbeing (Ellaway et al 2001, Sooman & Mcintyre 1995), many people discussed how this was the most valued community asset, but that potentially more could be done with the green space to open it up to be used by more people.
Similarly, people were not shy in coming forward to identify local residents who they thought of as being the heart and soul of the community and who helped to foster a unique community spirit.
Following the mindapples philosophy, we also asked people what different things they do every day to promote their own well-being. This is in response to lots of recent evidence that suggests that as many as 50% of our mental health issues are preventable (Department of Health, 2009) with much of our mental health and well-being being down to our individual choices and actions.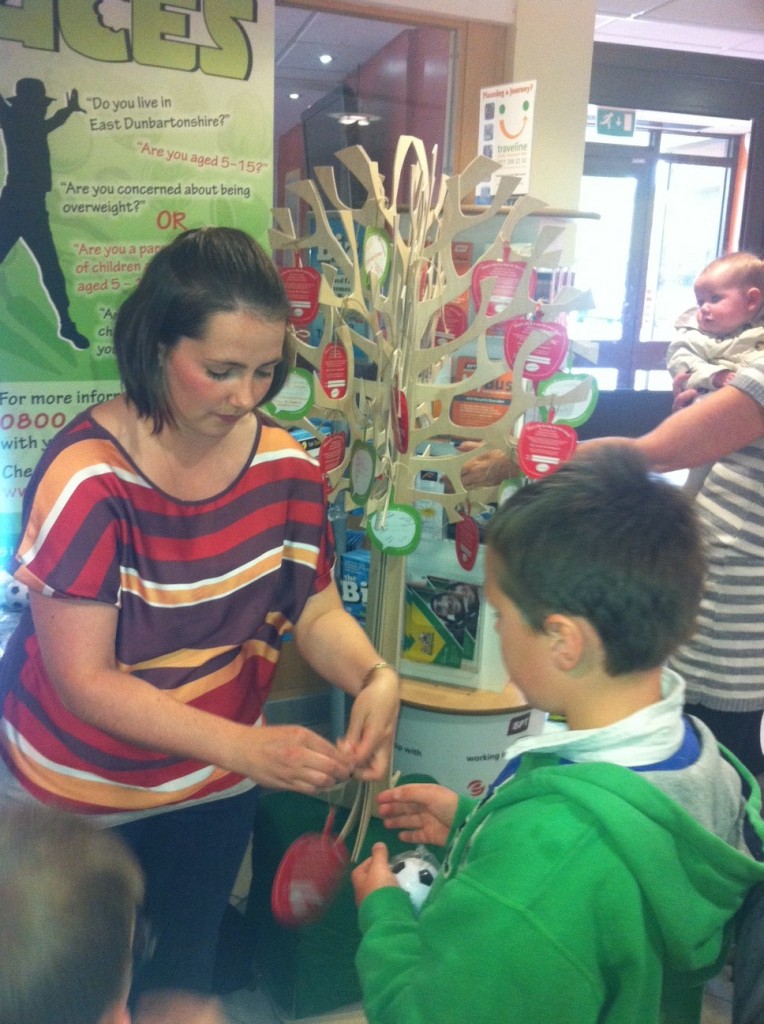 This proved to be a difficult task for some people – many hadn't ever taken the time to think about their own well-being. With some helpful prompting from the team, however, people were able to think more broadly about the types of things that they do generally (perhaps not every day!) to keep themselves well. These varied from doing a good deed, taking exercise, investing time in relationships, taking time to appreciate things and trying new experiences.
Many people (particularly families) commented that it had been useful to take the time to think about their well-being and we think that this is vitally important and as such we will be repeating this exercise through the rest of the drop-in sessions. So, why not come along to the next session and share your personal wisdom?!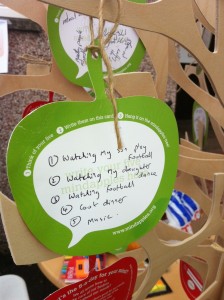 Workshop
We also held a community workshop at the Enterprise Centre in Milngavie.This gave us the opportunity to work in a more structured way with a smaller number of individuals. Over a three hour period, we talked in-depth about the local area and were amazed by the wealth of contributions with such a small number of people. Thanks to those of you who came along!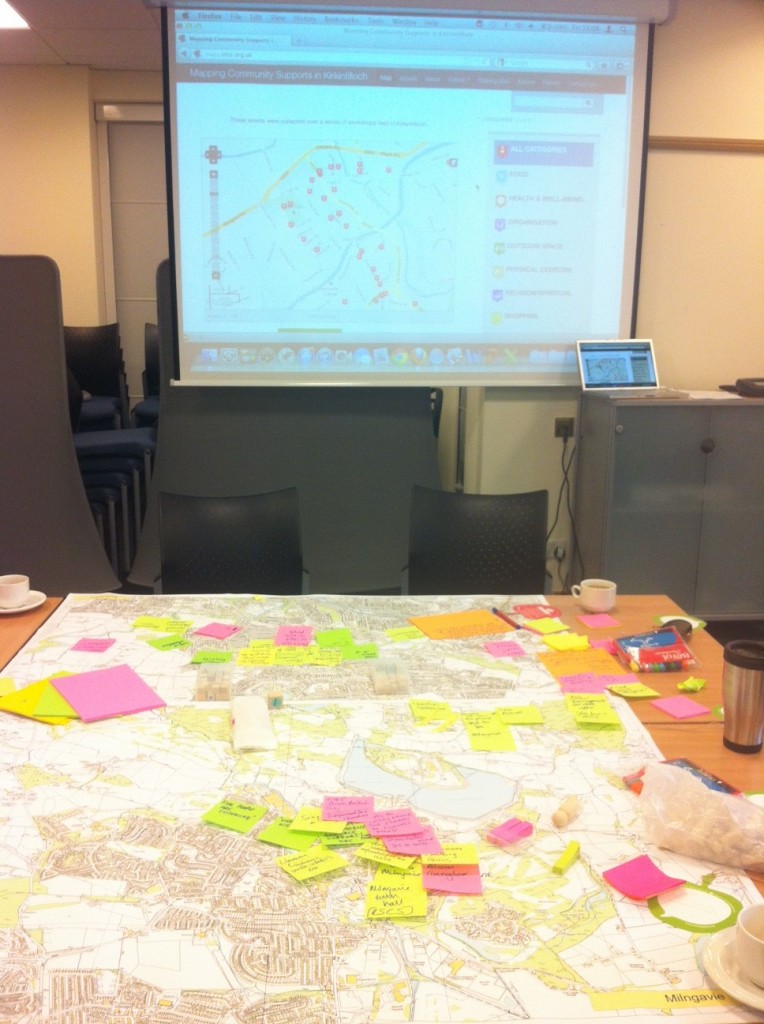 A brief overview of asset contributions from the workshop included:
All of the assets identified will be added to the community map over the next few weeks. In the meantime, please remember that you can text COMMUNITY to 60777 followed by your favourite local asset to ensure it is added to the map (all texts will be charged at your standard network rate).
We found that Bearsden and Milngavie has a wealth of community groups and voluntary organisations with significant experience of community engagement. We also found, however, that there is potential for improvement in partnership working between public and community agencies. We heard that local people are concerned about the sustainability of current initiatives and believe that long-term solutions can only be achieved through greater community leadership and a focus on volunteering.
We also learned a lot about the history of the local area, and changes that have happened over time. Although the proposed community hubs were considered to a positive asset, there were some concerns voiced about the locations of these and lack of parking facilities to enable access to a wider reach of people.
Interestingly, when we asked participants how they thought local residents might engage with the digital map, they were clear that in certain groups there is a lot of apathy around trying out new places/activities. This was particularly so for older people. The participants thought that in some instances, it would be crucial to provide support, a 'buddy' along with sufficient transport to get people to even think about using some of the assets that had been mapped.
The project team were using these sessions as 'tester' events so that we could learn what works best and what doesn't. We would have liked to get the views of more people in the area, and it is likely that we'll arrange a future session at one of the local groups that were identified. Also, we didn't get the chance to categorise the identified assets in the time allocated in the session, which is something we will incorporate into future events.
Participant quotes from the day:
"I'd just like to say how nice this group has been, you've made me feel very at home and I've enjoyed being part of it"
"I didn't really realise how many organisations there are in the area"
"[the best asset] is our community spirit"
References
Department of Health (2009) Flourishing People, Connected Communities: Available from: http://tinyurl.com/cdsdo8s
Ellaway A, Anderson A and Kearns A (2001) Perceptions of place and health in socially
contrasting neighbourhoods, Urban Studies, 38 (12) 2299-2316
Sooman A and McIntyre S (1995) Health and perceptions of the local environment in socially contrasting neighbourhoods in Glasgow, Health and Place, 1(1) 15-26