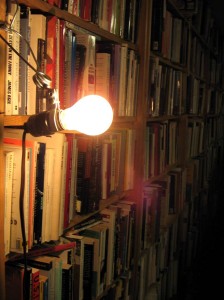 I've been reading a lot recently about the need for new ideas and solutions to problems in social services – it is a fact that we can't get away from.
However, the challenges we are facing in social services are those which require an understanding of a multitude of aspects of people's lives and society as a whole. Our social systems and structures are increasingly complex which often means that it is difficult to define the 'problem' or the 'issue' at hand – so how possible, then, is it to come up with a solution?
I am reminded of this when writing a document in collaboration with the I&I team. A colleague commented on what was written by saying "we shouldn't write 'solutions' – it implies that there is one 'answer – a 'holy grail' to be found". It got me to thinking – are we, in social services, sitting waiting on someone else to come up with the answers?
In reality, the context we work in requires the capability to continually address issues by developing and redeveloping practices which keep the person (and their outcomes) at the centre. This is a process led view which inevitably poses a way of thinking which is flexible and which iteratively addresses problems that naturally 'live' and 'change' continuously [1]. It becomes less about recognising fixed solutions and more about creating spaces in which responses can be explored that will lead to better outcomes.
If we take this proposition to its conclusion, if we really are saying that there is no 'answer' or 'right way' then we have to think about whether or not 'scale' of our ideas or innovations is achievable. Scaling up can be described as, "the practice of introducing proven interventions into new settings with the goal of producing similarly positive side effects in larger, more diverse populations" [2].  Perhaps it makes more sense, in our complex context, to then work on 'scaling' our processes and approaches to innovation?
For instance, there may be elements of a response like process, tools, leadership style etc. that are needed to help embed new ideas. However thought needs to be put into this 're-potting' of one idea in one context to another, what will work in that environment and what may not?  It's my emerging view that 'context is king' and I have the suspicion that perhaps in the context of social services, it is locally tailored responses that reflect and draw upon the assets of the local community that will be the future. We can borrow ideas from other places, but nearly always the component developments will need to be specifically located in the local area.
However, I'm happy to be wrong. Are there good examples of social innovations that maintain their substance across contexts? What makes these innovations the same or different from place to place?
[1] Christiansen J and Bunt L (2012) Innovation in Policy: allowing for creativity, social complexity and uncertainty in public governance. Nesta: mindlab
[2] McDonald S K, Keesler, V A, Kauffman NJ and Schneider B (2006) Scaling up exemplary interventions, Educational Researcher, 35.