First group up is anticipatory care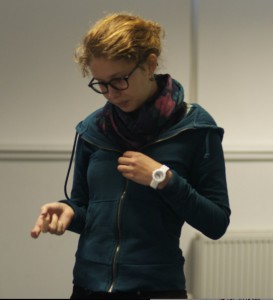 They told us how they had gone about their research and their learning about the sectors. They talked to older people about how they felt about services and what would make them happy and mapped and overlaid the responses on a matrix (see slides). They also talked about what is important to older people. Things that came up were food, relaxation and cultural activities. However, the group said that whether they talked with carers or older people one of the issues that came up again and again was time and money.
The group also explored the question – what does anticipatory care mean? To do this they created a timeline of what anticipatory care may look like (see slides) and, focusing upon specific parts of this life journey, looked at what service interactions looked like on this timeline. They also created profiles of older people and carers which they are referring their learning and ideas back too (see slides).
Some interesting things in the presentations were the conceptualising of a person's life journey and where anticipatory care could fit into this (see slides). The use of terminology – patient, client and person – was also interesting in terms of the perspective the language can 'spin' on the kind of approach people may, or may not, take. The conceptualisation of a family chain of people looking after each other was also interesting, and the thought about time left for carers to be able to look after themselves was noted (see slides).
The three issues this group identified were:
Education – proposing educational services that prepare people for older life. Considering how to deal with older life/illness in advance.
Relationships – try to increase relationships within the community and with service providers in order to have more people taking care of others.
Participation – promote the participation of older people in society and enable them to be active, give/take mentality.
Feedback from the audience: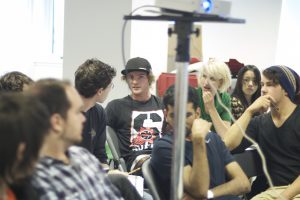 – Discussion about illness and wellness and how we use those concepts.
– A story was shared about 3 older people who have the early onset dementia and are being given support to live their daily lives (e.g. washing, buying shopping), but financial cuts mean they are not being supported socially. For this reason, residential care was being touted as an option which is  more financially draining in the long run than social support services (e.g. bowling, cinema, massage) and not a personalised response to what older people have identified they need or want.
– Budgets – social care and health budgets pull against one another. In some instances this may look like services are saving money on paper but in the long term they are not.
– The harsh reality is budgets have been cut and are going to be cut even more.
– Personalisation is what is being talked about, and people know they want certain services, however, the budget needs to be made available to realise these services.
– There was a discussion about forward planning or seeking help when things have gone wrong. Lots of families like to keep support within a family unit. How does this perspective relate to anticipatory care?
View the full Anticipatory Care Team Presentation