Analysis
We were delighted with the wealth of data received from those participating in the project. This, however, made knowing where to start with analysis a little tricky!
After much deliberation, we decided to start our analysis with the 'reflection points' (at the end of the recording week, we had asked participants to add a colour coded sticker next to text or diagrams that reflected: one thing they were proud of, one thing that stood out for them (good or bad), one thing they wished they could change and one thing that they wanted to tell their manager). It seemed apt to start with these reflections as these were the points that the participants themselves had identified as being most important after reflecting on their week.
In order to analyse this data, we firstly transcribed each of the indicated quotations and then pulled out relevant themes. We then checked the internal validity of these themes by having another team member sense-check them according to their interpretation. We were then able to discuss any differences of opinion as well as settling on the best 'term' for the themes that we thought were emerging. This analysis was then used as a frame for a sense-checking event we ran directly with participating practitioners (checking external validity) on 11th March.
Sense checking event
Everyone who had taken part in the project was invited to come along to a session to help us make sense of the data received. Those who had participated in the work came from far and wide across Scotland, and so we were pleased that approximately a quarter of participants were able to come along on the day. We encouraged participants to bring any curious managers along with them on the day, although only a few took up this option.
The aims of the day were to:
give an overview of the early findings from the project
provide the opportunity to talk and share with others who participated in the project
get to know each other better
work together to sense-check the findings so far
generate ideas about what to do with the data
generate ideas about what to do next
After giving a broad overview and introduction to the day, we got straight into understanding the themes from the data.
In order to facilitate discussion around this, for each 'reflection point' we pulled out quotes relating to each of the pre-identified themes and had them available for participants to read and interpret. We discussed these quotes as a group and finally asked participants to:
choose the quote that resonated most with their experience
to write a note about why this was the case
rate on a scale from 'way off' to 'spot on' how much the data resounded with their overall experience of delivering care and support.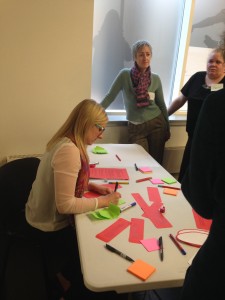 An overview of the conversations that emerged is outlined below.
One thing that you are proud of
Our analysis:
Overwhelmingly we felt that that the data indicated that key pride-inducing moments were centred around working with the people they support and seeing improvement or building relationships.  We broke this down into two key areas (1) seeing service user progression/ surpassing expectations and (2) building relationships (this involved elements such as building trust and open dialogue).
Although it was clear that many practitioners were trying to do their best to support people, and that many were moving towards outcomes, there definitely still seemed to be a focus on tasks (things that practitioners do) and activities (things that people who are supported do), rather than outcomes.  We were interested to tease this out at the event to see if practitioners made the same distinction.
At the event:
All in all, as you might imagine, people really enjoyed talking about this subject!  However, it was continually repeated that practitioners felt like they had to rely on personal pride to know that they are doing a good job. There was discussion that praise is often focused on tasks achieved/ undertaken rather than being focused on relationship building.
Themes that emerged and that corroborated our initial analysis included:
The issue of building strong relationships was most frequently shared. There was a general consensus that it takes to establish a trusting relationship with a person. Practitioners felt there was a direct relationship between developing a strong rapport with a person and that person's general well-being, progress and quality of life.
In terms of the distinction we'd made in our analysis around 'outcomes' and 'activities' practitioners at the event highlighted that often there was a disconnect between the outcomes that had been set and the activities that they undertook with the person (this was particularly true for the administration of medication). They felt that this might be due to the fact that often the outcomes are set were negotiated by people other than those who deliver the care.
Practitioners also interpreted the difference between 'outcomes' and 'activities' differently from us. Instead, they referred to the difference between 'being' and 'doing' and stated that often they were praised by managers for the activities and concrete actions that they did with people – rather than the simply 'being' and establishing connections with people. There was consensus by the group that the 'being with' (acting like family member / developing trust / establishing rapport) is harder to achieve, but it is the underpinning work that enables outcomes to be reached.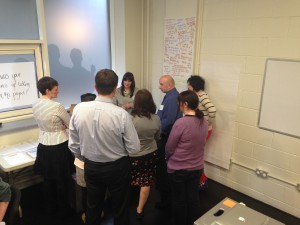 One thing you wish you could change
Our analysis:
We felt that there were three key strands emerging from the data on this topic, these included: (1) the emotional impact of the job, (2) concern for circumstances of people supported by services and (3) practical things that would make the job better.
At the event:
Helpfully, the conversation relating to this topic validated the themes we'd initially identified, with some additions and links we possibly hadn't made. The main discussions always came back to emotional impact of the job, and the group in general used emotive language.
Emotional impact of the job
This was the strongest theme in this category. Participants added descriptors of emotions including 'helplessness', 'feeling like you could never do enough' and 'feeling like you were sinking'. The group always came back to these feelings. They also talked about this being a reflection of caring about people.
Concern for circumstances of service users
This was another strong theme. People spoke more widely about policy and changes broader than their organisation and the ways that impacted on their job. This was linked back to emotional impact and feeling personally responsible/guilty. People also talked in the groups about relationships – knowing the person really well and that being an asset, but also a challenge as they maybe weren't heard in their role, or because they had become 'indispensable' (a reliance they weren't comfortable with).
Practical things that would make the job easier/better
The group didn't actually speak about terms and conditions (a code that we'd used) – but did discuss working hours a lot. People generally felt 'staffing' was a key issue, more than it appeared in the original data. In fact, they felt that staffing was often the route of other issues – like excessive working hours, excessive paperwork.
Another issue that emerged was the challenging relationship with GPs and health professionals, who the practitioners at the event felt had different value bases, and didn't listen or respect their views. Issues around collaboration appeared more strongly at the event than in the data.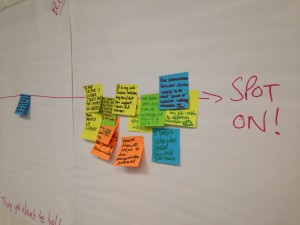 One thing you would like to tell your manager
Our analysis:
This data was difficult to synthesise due to the very personal nature of issues that people wanted to address with their managers. It was also clear from the data that people had varied relationships with management. That said, key themes included: (1) the emotional impact of the job (which were almost equally balanced between negative/positive emotions that they wanted to talk about) (2) wider systems issues that need to be addressed (including very small practical changes that need to be addressed) (3) feeling undervalued by colleagues and managers.
At the event:
It was clear that the themes identified in the pre-analysis were relevant to the group with almost all practitioners thinking that they were 'spot on'. It was clear from the discussion that the relationship the practitioners have with their managers is one of the defining features of whether or not they are happy in their work. These practitioners thought that the theme that came out most strongly was that of 'value' and 'communication'.
Practitioners felt that 'not feeling listened to' or 'valued' was a theme that seemed to cross-cut many of the quotes that were provided. In three of the four discussions, practitioners highlighted an awareness of how hard everyone in the sector works, but they felt that managers seemed to forget what it is like to be on the frontline and the type of pressure this work provokes.
Similarly, those who were in attendance frequently sited the disconnect between the pay and conditions that they are offered and how valued they feel. There was an articulated gap between what it is expected that frontline staff will deliver and how they are recompensed for this work. It was felt that frontline workers in social care are generally lower paid than those in other sectors, with terms and conditions that are rarely as good.
More than any other 'station' the wider issues affecting health and social care were highlighted here through discussion. Many of the practitioners picked on a particular theme around the sector needing an 'overhaul' and highlighting that issues such as funding ( a 'race to the bottom') and capacity being at the root of many of the issues that staff present to managers. Again communication was clearly an issue here with the majority of practitioners stating that a lack of communication and honesty around cuts, changes to services, policies make it particularly difficult for them to support people to deliver outcomes. There was the feeling that as there is so much change in the sector it could often be difficult to be clear and consistent with people who are supported.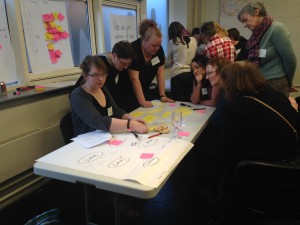 One thing that stood out the most for you
Our analysis:
Positive reflections
The majority of reflections centred around having quality time with people supported by services and working with them to work towards outcomes. Respondents noted how rewarding this particular element of their work is. Another key positive reflection coming through strongly was the personal achievements of practitioners – this could be anything from seeing progress, to setting up a new service to supporting colleagues well.
Negative reflections
The majority of negative reflections centred around worry or concern for service users. Key to note here that there were quite a few participants (9) who highlighted serious incidents that had happened during the week (such as death or illness). Another significant negative reflection was the amount of paperwork that has to be completed. This seemed to stand out particularly for participants.
Overall, we felt that there was another common theme which focused on 'attachment' and 'professional and personal boundaries'. The data showed many instances of practitioners becoming connected to the people they support, not wanting to 'hand a case over', and forming friendships. This, to us, was interpreted as being about how personally invested practitioners were in people's lives.
At the event:
The most frequently selected quote and recurring theme was that of relationships. Most people felt that they have a relationship with the people they support but that it is one-sided. It was clear that everyone really cared about the people they supported, however, many talked about how they often feel like a 'fraud' who pretends to be someone's friend but doesn't share the connection. The need for professional boundaries wasn't discussed, the focus was instead on how it feels to act like someone's friend but then tell them you aren't their friend when they cross an invisible boundary. The frustration and emotion around this was clear in the groups.
Most people said that they had experienced death in their role. There was a general feeling that there is little time to be person-centred at the end of someones life, due to the fact that practitioners often had to juggle the person's emotions, the families' emotions as well as their own emotions. Practitioners often felt that although necessarily their own emotions often came last, that this could be hard to deal with particularly when they have a deep connection with the people they care for.
_____________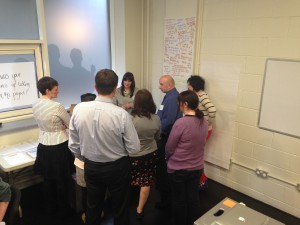 The Process
As well as supporting us to make sense of the data, the event was used as an opportunity to check-out how practitioners had felt about taking part in the project, so that we could better understand its impact on them. Overwhelmingly, practitioners felt that it had been a useful exercise to support them to reflect on their work and although most people generally found it hard to fit doing this work into their day, they did so because they were motivated to share their voice/views.
Here are some of the thoughts from those who attended:
Reflecting on self: "You forget about yourself in this job, this project provided me with time to reflect about myself", "Feedback about your work stops after your probationary period, you don't get a chance to reflect on your work anymore. This project gave me the chance to do this again."
Reflecting on the amount and type of work that they do: "my god, what do I do in a day", "it's full on", "difficult to get a break", "great job, the day goes so quick"
Reflecting on what they value: "Made me appreciate, I like my job and I have autonomy and a passion for it", "Highlighted my time management: where I am wasting time' and 'how much I travel compared to face to face time"
Overall, the majority of people said that their experience of this project was cathartic. In terms of the impact of the project on personal practice, practitioners were generally positive. The majority felt that this should be the sort of reflective process that all practitioners should undertake – two people said they were continuing to use a diary to reflect on their practice – one person said that the prompt cards had prompted reflection on their career trajectory (something they hadn't thought of before), many others said that they'd generally learned a lot about themselves.
At the sense-making event some practitioners gave us their reflections on The View from Here project.
 What next?
For the last part of the session (before nibbles and networking) we asked practitioners what they'd like to see us do with the wealth of data that we've collected and how they'd like the data to be displayed.
There were loads of ideas shared on the day, but a key few were flagged up by the majority:
develop a reflective practice tool
use the data from the diary entries to create something (perhaps a storybook) that tells the tale of frontline practice – (audience: other frontline practitioners)
create a report with infographics to highlight the data visually/accessibiliy. This should enable practitioners and managers, and people more broadly, to understand the experiences of those working closest with those supported by services. (audience: national, managers, policy).
We'll be taking forward these actions in 2015. Keep in touch for progress!
Update October 2015
The View from Here website is now available.