'Carers are equal partners in the planning and delivery of care and support. There is a strong case based on human rights, economic, efficiency and quality of care grounds for supporting carers.' Caring Together: the Carers Strategy for Scotland. This is the vision set out for carers in Scotland and a key means of achieving this vision is through improving the uptake and quality of carers' assessments.  The carers' assessment is the main vehicle through which carers can reflect on and define the personal outcomes they are seeking to achieve.  This research aims to explore the outcomes achieved with and for carers through different approaches to assessment.
This project is being carried out jointly by VOCAL and Midlothian Council.  It aims to explore the impact for carers of assessments supported by practitioners using the statutory carers' assessment framework, as compared to VOCAL's carer outcomes tool and as compared to a self assessment by the carer.  In addition, this research seeks to explore the impact of taking an outcome focused approach to carers' assessments.
 Download a copy of the report "Carer's assessment and outcomes focused approaches to working with carers" through the IRISS Learning Exchange.
October Knowledge Exchange Event
Abenet presented a preliminary overview of their research our first Knowledge Exchange event in October 2012.  The PROP practitioner-researchers were asked to present on their impressions of the research process and to give a short outline of their research.  Audio recording are available of both these presentations.
May Knowledge Exchange Event
Abenet and Becky recently presented their research at a PROP Knowledge Exchange event at the University of Edinburgh, in May 2013.
Here is a link to an audio recording of their presentation: Abenet and Becky's Presentation.
Their presentation is available here: Abenet and Becky's Prezi Presentation
A copy of their postcard can be downloaded here: Abenet and Becky's Postcard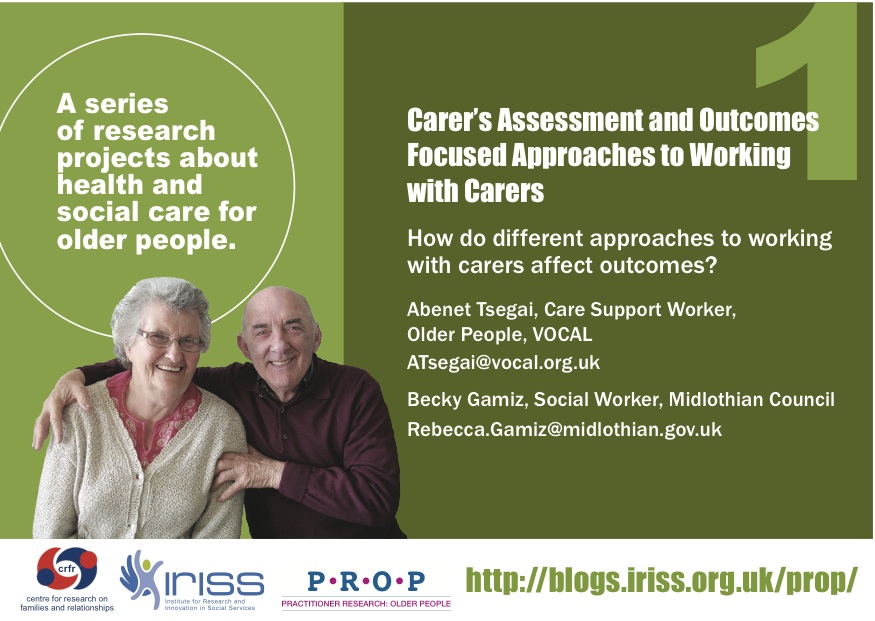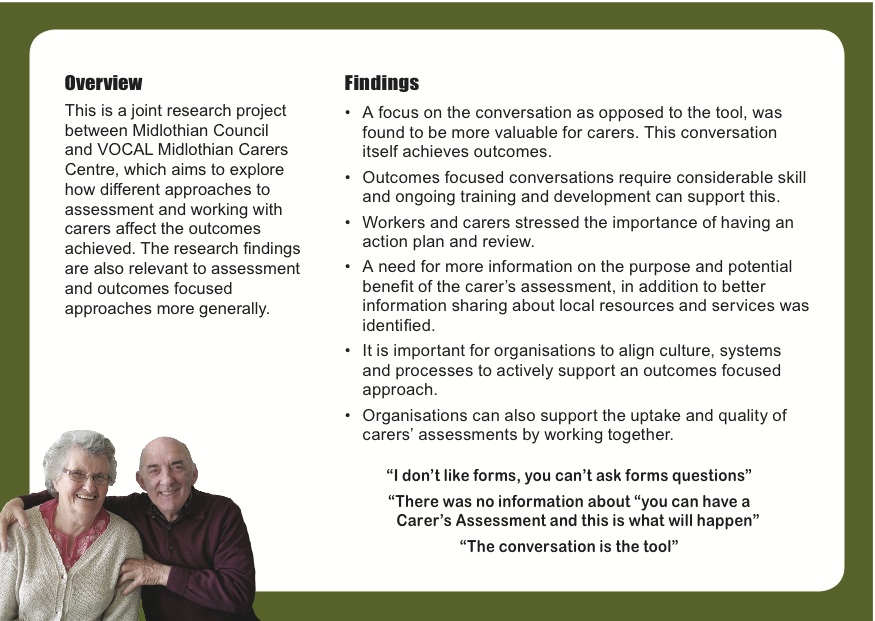 Special thanks to Grant Dugdale, now with the Care Commission, who was part of the initial planning of this project as a member of the Social Work Department at Midlothian Council.