On 25th May, over a day-long session, Iriss supported a group of people representing a broad range of organisations who support the people of Milton to come together, share the ambitions of their work and to identify opportunities for collaborative working. The aims were to:
feel better connected to one another
understand each others service aims and objectives
better understand the needs of people in Milton
explain how their organisations are responding to those needs, and will need to change to respond to those needs
are able to make connections with other services to meet the needs of the community
Over the course of the session, the group was encouraged to relate to each other as individuals (not roles or organisations), by completing and discussing little proformas. This exercise uncovered many hidden talents!
Roland Playle from the North Glasgow Community Food Initiative provided an engaging presentation highlighting the key findings from the Milton Talks survey. This generated a wealth of discussion and a whole wall of community identified 'needs':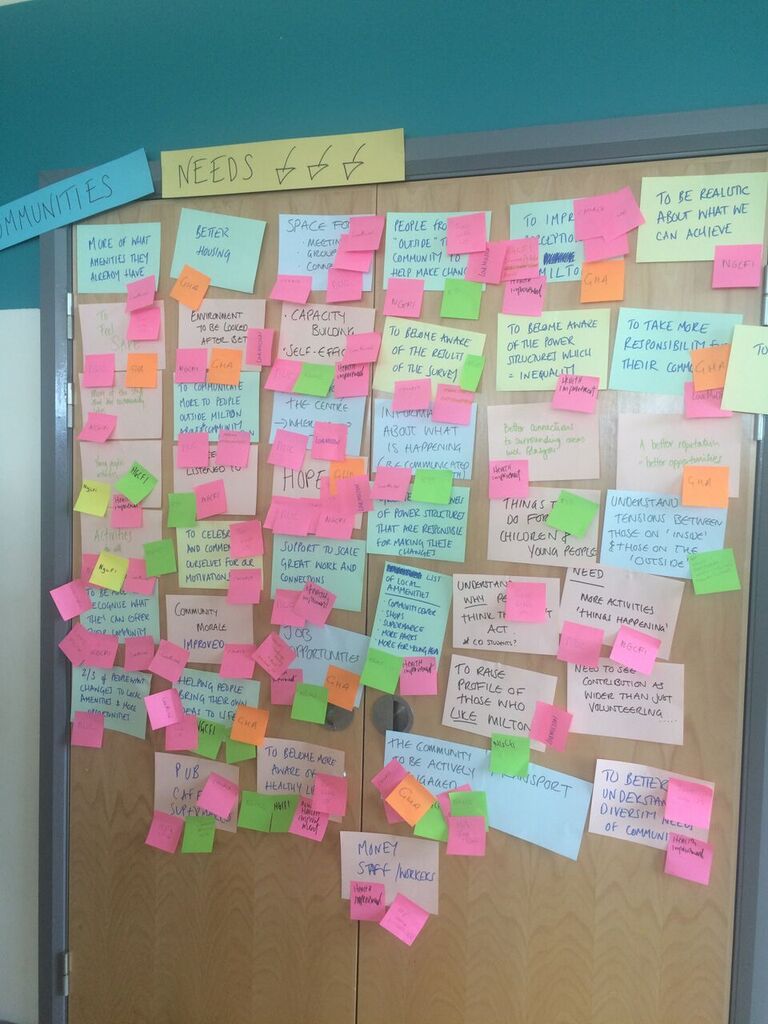 Following this presentation,  plans were made in cross-organisational groups to respond to some of the key issues and the group were then asked to consider how to promote increased participation and community-led approaches in the next stages of collaborating together. The purpose of this was to devise collaborative plans for how they could responds to unmet needs or support other to meet needs that are not well resourced.
We also took some little video clips of people talking about their work, and their wishes for the people of Milton – coming soon!
The day was very positively evaluated. Here are some comments from the group:
What worked well?
All of it
Great ideas
Community needs wall
Variety of ideas and methods
Good participation from all present
It was very valuable to have a bit of time to listen, learn and share between groups
Iriss facilitation (thank you!)
Good to hear Milton Talks stuff and responses of people
Making contact with local church
Finding out the info from Milton Talks. Well done in all the hard work (door-door / Collate stats)
Shared information and ideas
What could have worked better?
Put deadlines to actions
Pin people down to their actions
More commitment from absent organisations
Perhaps more focus on specific outcomes
Me to have been here all day (action phase)
Would have been really useful to have a vision and activities summary from each group