Meeting Date: Monday 16 September 2013
Location: Glasgow office of the Adult Autism Team
The Adult Autism Team kindly arranged for me to meet a woman with extensive experience of working in peer support in autism.
Even in the short time since starting this project what has become painfully evident is the current relative lack of research/support techniques for adults on the autistic spectrum, most projects focus on children.
"Do we disappear when we hit 18?"
But we do get some incredibly useful insights via anecdotal reports.
Autism Alert Cards
Here's an example of the Strathclyde Autism Alert Card.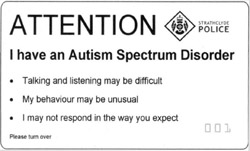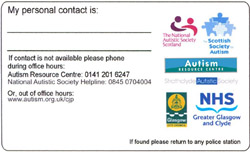 Pros
They provide a certain amount of gravitas as they are 'official' cards only issued to those with a formal ASD diagnosis. This helps with things like applying for benefits or dealing with officialdom
Convenient size, printed on robust plastic similar to credit cards, easily carried by men or women
Although the cards were originally intended to be used in exceptional circumstances some people have found them useful in everyday life  e.g. present them to shop assistants, on public transport etc., people usually find the person will then ask them if there's anything else they can do to help.
Cons
Some have found that the stamped police logo on the front of the card is problematic – on occasion presenting it the other person mistakenly thought the autistic person was an official from the police. Because of this some people have opted to use other plainer cards but those carry no official weight
Some cardholders haven't understood that it's not good enough to simply have the card on them…they need to remember to try and present the card to others.
There's space on the back for a personal contact. Some people have nobody they can think of to put in that box, they've thought that the card wont be useful unless that was filled in so haven't used the card.
No space for personal details
All these kind of details are very useful to me as I look for ways of supplementing these kind of cards. If you know of more pros or cons of these existing cards please leave a reply in the comments or contact me.
Travel cards – Glasgow buses
Some people qualify for free travel due to their disability. In Glasgow there's one issue on buses where the recent introduction of technology is currently having a negative effect on some autistic people.
Free bus travel for people aged 60+ or those with a disability
In the past what would happen is you would just hold the card up to the driver and board the vehicle. Now that there's electronic versions of these cards the user has to
Physically place their card on top of a card reader device
Say to the driver their destination stop
Board the vehicle
Some autistic people find bus travel difficult in general,
finding the right stop

waiting 

getting into queues and especially in Glasgow the expected social chit chat

getting on the right number of bus
So for people with these kind of difficulties they can already be pretty stressed even before they step onto the bus. It's "say to the driver their destination stop"  that is causing a problem. For those with difficulty with verbal communication they may be unable or too stressed and unwilling to speak which means they run into problems simply trying to board a bus successfully. Some have stopped even trying to travel this way which leads to mobility problems reaching appointments elsewhere.
What would be useful is a way for a person to present the destination to the driver without needing to speak, possible approaches may be
Showing text with the name of the desired destination
Using text-to-speech technology to verbalise the destination on behalf of the person.
With synthetic speech it's important that the 'voice' shouldn't lead to the person being ridiculed in public.

Gender is also important, most people would probably prefer that their synthetic voice was male or female as appropriate.
Ideally it would be good if any synthetic voice had a Scottish or local accent, some people who have already tried assistive devices refuse to use devices with American or English (e.g. London RP) accents as they don't like the sound of the voice.
In some cases people may be able to prerecord audio of themselves or others pronouncing destinations so look for tools that can support this.
Post updated  19th September 2013, see the following How tos for examples of apps that might help with this.