The following is a guest blog post written by Joelle McCallum. Joelle met Fiona Munro at the recent Parenting Across Scotland "Creating Loving Relationships" Conference.
Joelle is currently a social worker with NSPCC, delivering parenting support using a strengths-based model, called video interaction guidance. She has worked within counselling and social care roles for several years, in recent years as a statutory social worker within busy teams Glasgow and East Renfrewshire. Outwith work, Joelle teaches meditation and methods to reduce stress, to adults and children at Kadampa Meditation Centre Glasgow. 78 Hutcheson st, Glasgow
If you have any questions for Joelle you can reach her via email: Joelle.McCallum@nspcc.org.uk
———–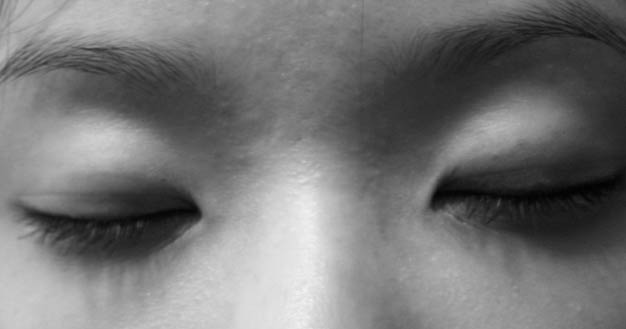 Our NSPCC annual conference for staff and volunteers at the end of last year was entitled 'In Our Shoes'. As part of the Improving Parenting, Improving Practice (IPIP) team, which offers parenting and relationship support to families where there are concerns about neglect, we wanted to help our colleagues working in other parts of the organisation to reflect upon how it feels to be a child experiencing neglect.
We came up with the idea of an experiential presentation. Colleagues were asked to close their eyes and were guided through a visualisation of a typical morning from the perspective of a six year old child living in a physically and emotionally neglectful environment. And, as I volunteer teaching meditation outside work, I took on the task of preparing and delivering the visualisation.
I had never delivered a meditation like this, but I had experienced being guided in a meditation in which we were guided in imagining life as a pig, the purpose being to develop our understanding of, and compassion for, the suffering of animals. I had found this very moving, so I thought I would follow a similarly rich, very descriptive style, using things that I had witnessed working as a statutory social worker to inform the vivid picture that we wanted participants to experience.
"…Your tummy is rumbling and you can hear Amy still crying in the bedroom. Christopher has stopped crying so you put him on the floor and hurry looking for some breakfast so that Amy will be quiet. You find some coco pops and pour a bowl for you each, pour in some milk and carry it through to her cot. Milk spills on the floor as you walk through; you are trying to be careful but it's all sloshy. You put the bowl down on the mattress for Amy and she stops crying and starts feeding herself the cereal with her hands."
The visualisation lasted ten minutes. At the conference the room was incredibly silent, and the experience was clearly emotional for some. It seemed more powerful than I had imagined it would be, and there was a deep atmosphere of sadness and respect for the lived experience of some children afterwards. We asked participants to write on post-its how they felt: isolated, lonely, sad, upset, were common responses. Thankfully then we were able to show the wonderful work being done within the IPIP service to support children and families in these circumstances, so as to get the hope back!!
Following the conference, I was asked to go along with our service manager, Lucy Morton, to deliver child protection training to experienced police officers who were recruited to the newly formed National Child Abuse Investigation Unit. They will be involved in complex cases of child abuse of all kinds, such as baby deaths and child sexual exploitation. Lucy suggested it would be beneficial to use the visualisation in this context, helping to keep the child's experience at the heart of investigations and sensitive practice. The approach again appeared to be genuinely moving, with participants feeding back that the experience had been a highlight. I was asked to deliver the input again to a second round of cohorts to the new unit and received feedback that the experience was helpful, one officer commenting 'for us that was ten minutes, but we need to remember this is daily life for some children.'
For me, meditation is so much more than the current explosion of the concept of mindfulness – while I very much welcome that it has become so popular and that many people benefit – in my view mindfulness shouldn't be just an end in itself. Mindfulness for me is about remembering an object that brings about a positive effect on our mind. For example meditating on the breath, or being in the present moment and less focused on our worries, makes our mind still and calm. Meditation and mindfulness, however, can also be about remembering sadness or suffering, in order to increase our compassion and caring for others. And ultimately, if we are not practicing loving others, our mind will never be very peaceful!!
Having previously been a statutory social worker, unfortunately I know how the pace and pressure of high caseloads and levels of risk can cause our heart to harden a bit. It can feel that to allow the suffering of vulnerable people we work with to really touch our hearts, would cause us to become overwhelmed or unprofessional. Yet the success of this approach shows us that – during IRISS's year of love – that powerful learning and personal development comes from allowing ourselves to deeply connect with others.
Joelle McCallum, Social Worker, NSPCC, Glasgow Service Centre
———–
If you enjoyed this you may also want to read our previous post about being mindful: "Mind Full or Mindful? Making Space for Creativity"
Thanks, Fiona