Location
The first workshop was held at the 3 Villages town hall in the beautiful setting of Arrochar. Argyll and Bute local authority covers a large geographical area, spanning the islands of Coll, Tiree, Mull, Islay and Jura, as well as the mainland town from Campbeltown in the south to Oban in the North. Arrochar is somewhere in the middle of the west of the region and we were really pleased that people were able to make it from all the different areas.
People
The first workshop had a great turnout – 4 young people and 12 workers/managers from services such as throughcare and aftercare, social work, social care, education, health and housing, and from both the public and voluntary sectors.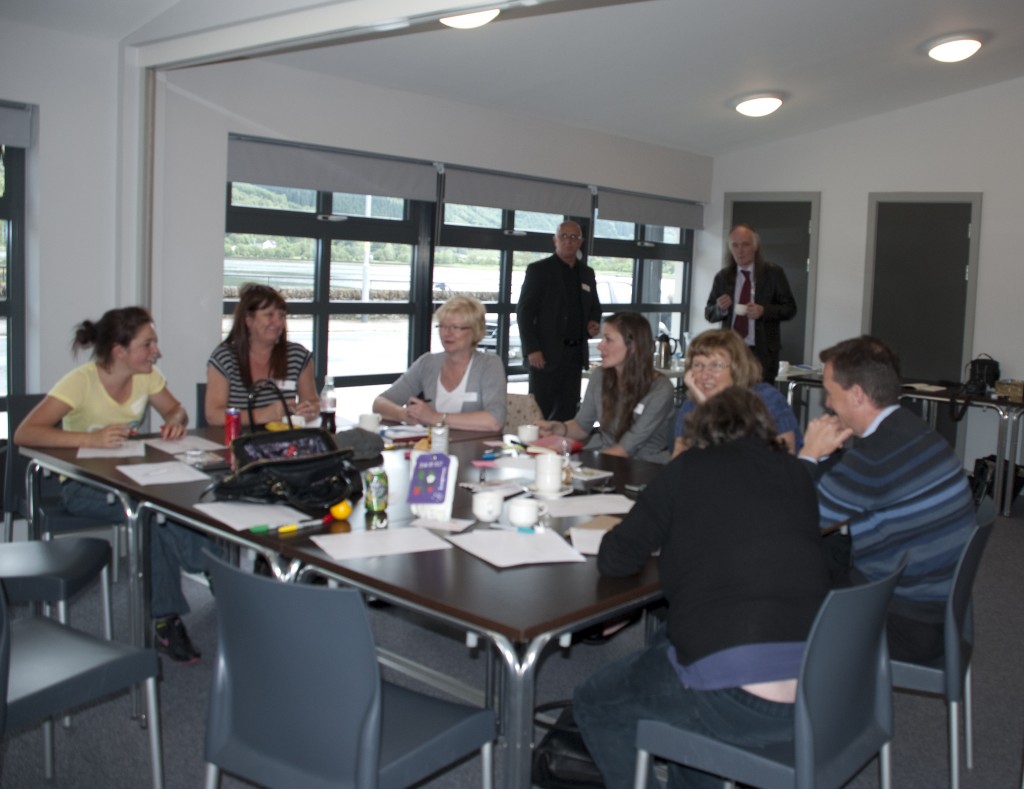 What we did
The session lasted for 3 hours. We split into two groups and were introduced to a lot of thinking about designing services and new ways of working.
Firstly, we were able to explore what prototyping was and (although I can only speak for my group), discovered that is is just a word for doing things differently from the way we normally do things so we can test it out. So for example, a woman in my group spoke about using a ham haugh in her soup instead of a stock cube (which she didn't think was successful, and won't be doing again). Another woman spoke about trying out new outfits for a wedding – which I am happy to say was a success!
We also discussed what we feel like when we prototype. Thoughts (from my group again) can be seen in the photo below.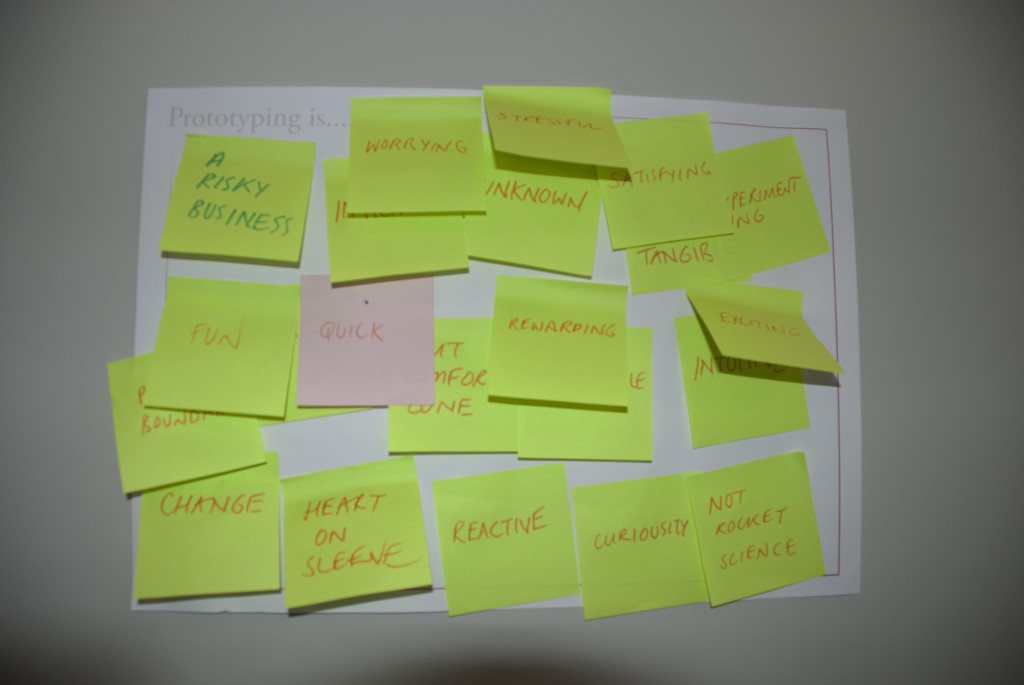 Then everyone had a go at prototyping by choosing two objects from a selection and figuring out what kind of services we could provide using those two objects as inspiration. Everyone then shared their ideas and we voted to choose an idea that each group could work on.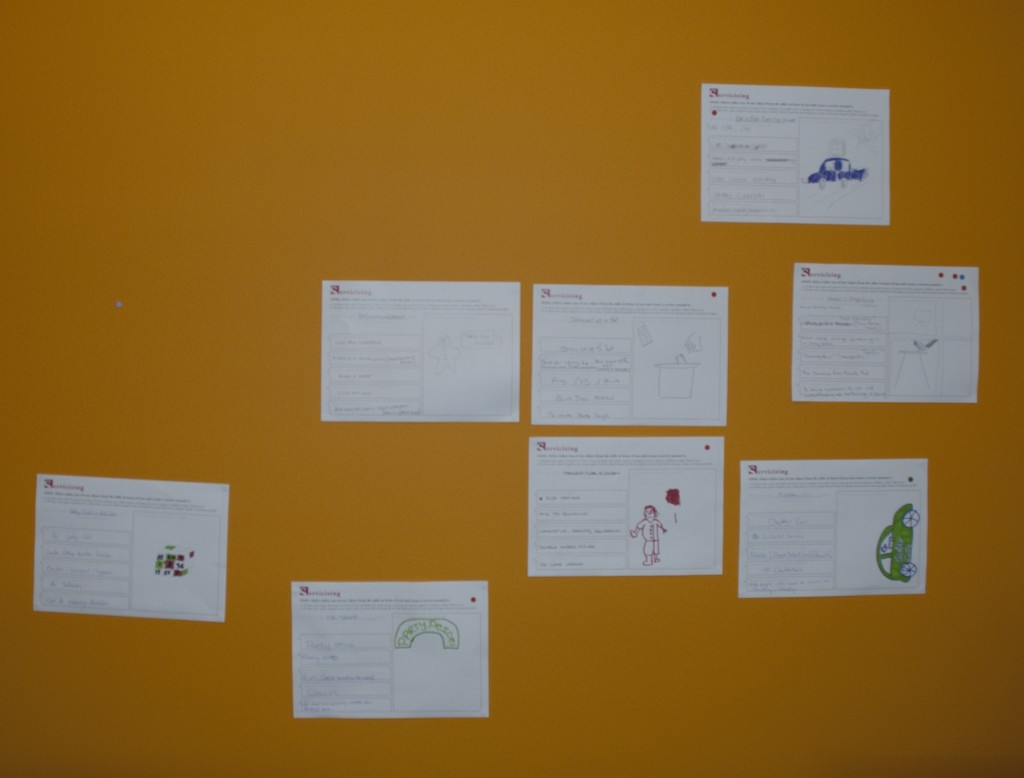 This was when we were introduced to the idea of blueprinting a service, which involves telling a story about a service through the eyes of someone using a service. This is assisted by breaking the service down into stages and exploring how a person feels at each stage. We took each idea and told the story of someone using this new service, made notes about this person's experience and placed them on a large sheet of paper, which broke the experience for a person down into stages (see below for an example).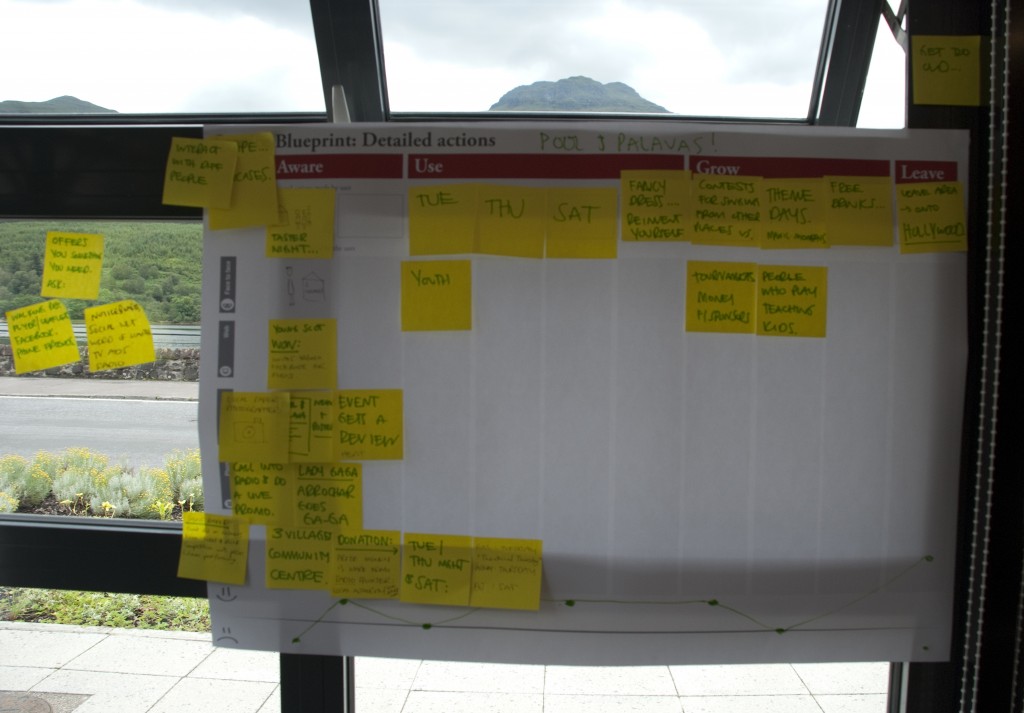 Working through this with everyone aimed to share a process of working together that explores and works-up new services for people. These methods of working are going to be used again in future sessions but will be more relevant to leaving care services (rather than being conceptual about how people can design services together). This first workshop seems to have given everyone an experience of how to use these ways of working together for future sessions.
What people thought of the workshop
At the end of the session we asked everyone involved to provide feedback – what was good and not so good about the workshop, and what we could do better next time.
Some of the things that people found good about this session included: the group interaction, that it made people think, created a relaxed atmosphere where everyone contributed and were able to come up with creative ideas, and that it created the opportunity to meet new people. It was also considered lively, interactive and interesting, and participants enjoyed the challenge of speaking in front of people. They also liked the idea of designing a service, and thought it was a creative way of explaining the process we will be working through in future workshops.
Some of the more negative comments included: not enough time for introductions, the acoustics in the room made it hard to hear and was distracting, and there was too much sitting around and too much listening. These are issues that will be addressed in the next session. Including more breaks, being more active, encouraging everyone to get hold of the camera/video camera to take their own photos/videos, and having plenty of fizzy juice (!) are also on the next agenda!
Reflections on the workshop
These are my reflections and I'd like to encourage others to add their own, as well as share their point of view about the process we all experienced.
From my perspective, the people that came together to work with us on this project don't often get the chance to work together practically. They mostly work in a consultative form with each other and/or young people. This project works differently in that everyone is in the same place at the same time to create something together. This brings with it challenges as well as opportunities. Working together is not as easy as doing something on your own, so the group dynamic and relationships are really important to focus on. However, there is also a real desire from the people who are involved in the project to try this process out and create something that will benefit young people.
Following on from that point, the opportunity that comes from working together is that having so much knowledge in the room, be it experiential, service or process related, means that there are many possibilities, lots of perspectives and boundless ideas that we can think about and work through together. An aim of this process is to flatten any knowledge hierarchies so that everyone's ideas – because they are coming from people with experience of providing or receiving leaving care services – are just as valuable in identifying ideas and coming up with ways of responding to people's experiences.
All comments are welcome,
Gayle