Background
'In 2015 I was homeless and staying in Kingston Halls hostel, and was allocated a housing officer, Josie, who was very helpful and along with the hostel staff advised me to keep busy. I had also been talking to Jim who used to come into the hostel on a Tuesday, he worked for the Marie Trust and they help people to get their lives back on track. He suggested the Navigate project at Glasgow Homelessness Network and that maybe I should start volunteering.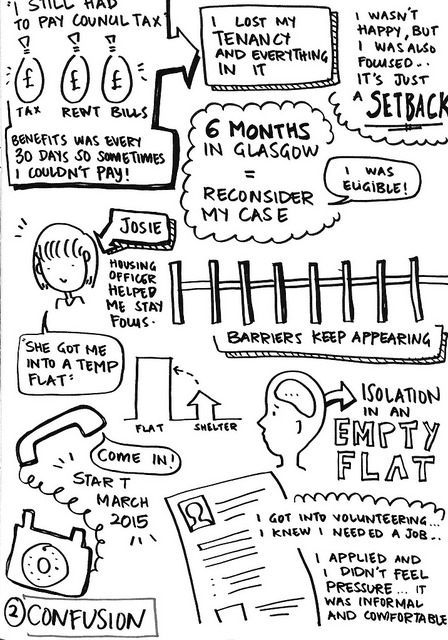 Navigate
I filled out the application pack and went to a group Interview that was quite informal and relaxed with a short one-to-one chat at the end. I left feeling quite pleased and I soon received a date to start the training.
During this time I received the offer of a flat which I happily accepted. I stayed in there for about two weeks waiting for furniture to arrive that had been allocated through the Scottish Welfare Fund.
Training, support and skills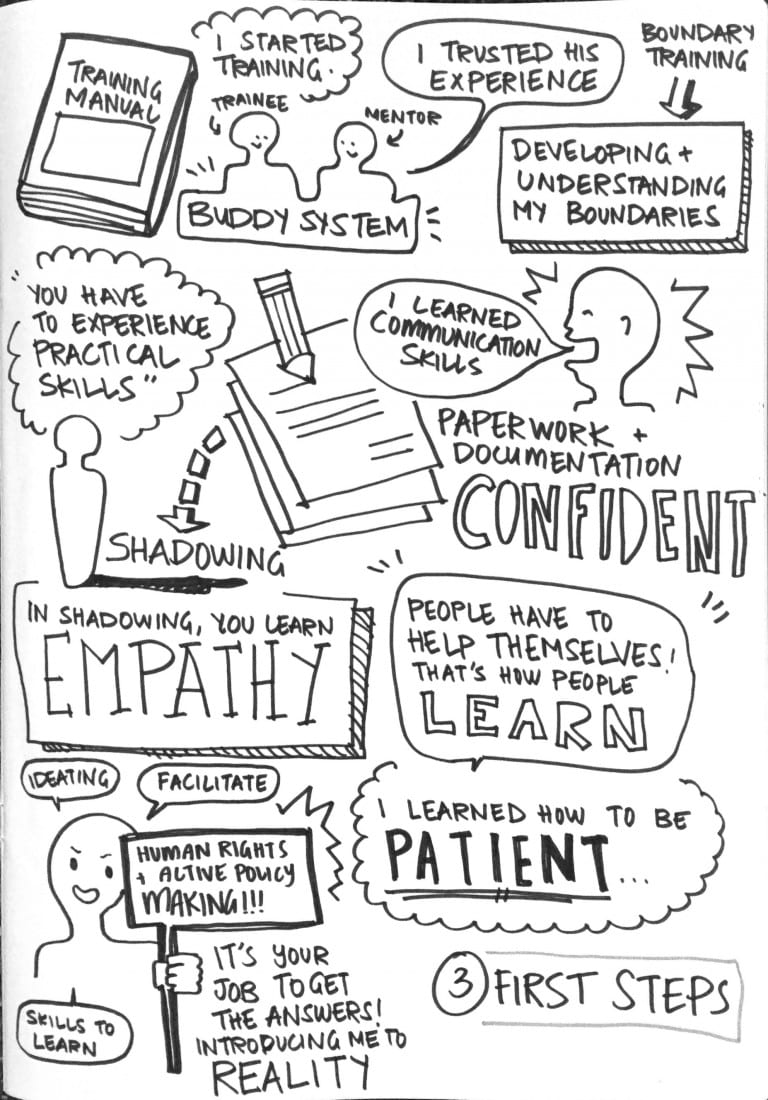 I was asked to start the four day training course that was attended by a group of us and included role playing, information on the current housing laws and the importance of paperwork and professional boundaries. I was buddied up with Gerry who, although a volunteer, had a background in social work and who I was able to ask questions quietly and have confidence in the answer which was a great help as I still lacked confidence in social situations.
I was allocated a link worker and we all applied for our PVG's and during the time it took to come back, I was shadowed by my link worker on every meeting. This helped to build my confidence slowly so that by the time my PVG was approved I was ready to work on my own and could call on my link worker if I needed help.
The training provided me with the skills to help people sort out their own problems which was an education in itself as I began to identify and recognise challenging behaviours in myself as well as in others.
We were taught to actively listen, identify problems, list them in a chronological order then address them, which now sounds simple but amidst the chaos of homelessness and the other problems that come with it, it was not.
Having someone understand you can help when organising your thoughts and ultimately your actions, which can make the difference between success or failure in breaking the cycle of homelessness that can also link to addictions and poor physical or mental health. This was a great help in getting an understanding of myself and my behaviours which could be overly dramatic. It brought perspective and helped me develop trust and a level of understanding that wasn't previously there.
My involvement in the Navigate project started to bring me out of my isolation, which I didn't realise I was living in. Through peer support, I began learning how to work with people through helping them. This helped me to gain confidence as well as understanding and it also brought perspective, encouraging me to develop trust.
Opportunities
It wasn't long before I was talking with Clare at Glasgow Homelessness Network who asked me and a few others if we were interested in taking part in a research project led by the University of Strathclyde, funded by the Scottish Government, on Health and Human Rights in Homelessness where the findings will be included in a report that will affect Government policy.
This would involve everyone from the start by giving us an understanding of what needs to be addressed and letting us experience: the process of formulating questions and the framework in which to present them; organising, facilitating the focus groups; conducting one-to-one interviews then collating and presenting the findings.
Iriss
Clare also suggested that I attend an information session with Iriss who were looking for someone with lived experience of homelessness to work with them on a project about peer approaches in homelessness. Rikke and Ellen came in to chat to a group of Naviage volunteers about their project. After the information session I met with Rikke and Ellen for a friendly and informal interview. I started work at Iriss, one-two days a week, in November 2015.
Confidence
I started to work on formulating the questions for the focus groups and interviews with a lot of time spent on thinking about the best way to approach the problem. This was a cause for concern as I felt I could not account for my time in the traditional manner, leaving me with a guilty feeling and feeling the need to explain myself. This was a learning experience as I now had more responsibility. Previously I had been working in large groups but now I felt the pressure was on me to work things through and I constantly felt as though I wasn't working fast enough. But Rikke and Ellen were a great help and encouraged me at every turn. They also introduced me to Stuart, one of the Iriss team, who talked me through his experiences and gave me guidelines on how to best conduct research. This helped to build my confidence and gave me a reference point from which I could work from. Before I had worked in groups and had relied on the input of others. Now I was solely responsible. I learned the importance of preparation as I slowly started to formulate the questions that would address the main points. This also brought about an understanding that helped me to identify an underlying theme and to construct a framework in which to present the questions that would elicit as much information as possible.
Facilitation
The facilitation of focus groups was also a learning experience as I came to understand the importance of prompting to maintain the focus of the conversation, making sure it is not being dominated by any one person and ensuring that every voice is heard. Also, taking a mental note of the issues that have been addressed and patiently waiting to redirect and focus the conversation to address the remaining issues while keeping to schedule, were also things I had to learn.
Interviews

Conducting a series of one-to-one interviews, I came to understand the difference between introductory, closed and open ended questions and the importance of putting the interviewee at ease. Also, to identify the underlying theme rather than memorising a prepared list of questions, so that people can answer in a relaxed conversational manner that with prompting they can expand upon to cover all the questions you need to answer. I also learned about addressing the balance of power between the interviewer and the interviewee, an issue usually addressed by the peer approach.
Presentation
I was asked to give a presentation at an Inverness workshop for Iriss. To prepare for this Rikke and Ellen had asked me to share my story, which they audio recorded and Sarah illustrated. I prepared for the presentation by recording what I was going to say, based on the main points illustrated by Sarah. I then wrote down and refined my presentation, in conjunction with the slides, timing myself so that it could be presented within the fifteen minute time frame.
Training
The training I went through while at Iriss consisted of a Conversation Cafe run by the Scottish Recovery Consortium, about facilitating conversations, asking hard questions that can challenge people's perceptions and not shying away from them if they challenge yours. I also had training on communicating with impact which I enjoyed as it reminded me to keep things simple and not to overcomplicate the message you are trying to convey.
Learning
Through my time working with Iriss I have enjoyed the responsibility of working on my own and in smaller more experienced groups. I have developed confidence in my own abilities and trust in the abilities of my colleagues when working together to achieve an end goal.
Overall it has been a good learning experience and introduction into the practicalities of peer-led research. I have grown in confidence and can now work independently as well as with others. I am no longer afraid to make mistakes and work to improve on any I do make. I have a better understanding of the entirety of a peer-led research project within a research and innovation organisation, what it can achieve and the effect it can have on society as a whole.'
– Alan
Contact: alan.navigate@gmail.com